A Massive Stock Market Crash Is Imminent: These Men Predicted Current Economic Crises. No One Listened, Well They're Warning Us Again Video
There are a few men who have tried their best to warn America about the economy and the recession we just went through and Mainstream Media laughed at them, Mainstream Media is covering up our economic woes yet again.
Now the same men that Mainstream Media laughed at the last 12 years are speaking out once more. Ignore them are you own peril.
Warnings That A Massive Stock Market Crash Is Imminent
In the financial world, the month of October is synonymous with stock market crashes.  So will a massive stock market crash happen this year?  You never know. The truth is that our financial system is even more vulnerable than it was back in 2008, and financial experts such as Doug Short, Peter Schiff, Robert Wiedemer and Harry Dent are all warning that the next crash is rapidly approaching.  We are living in the greatest debt bubble in the history of the world and Wall Street has been transformed into a giant casino that is based on a massive web of debt, risk and leverage.  When that web breaks we are going to see a stock market crash that is going to make 2008 look like a Sunday picnic.  Yes, the Federal Reserve has tried to prevent any problems from erupting in the financial markets by initiating another round of quantitative easing, but 40 billion dollars a month will not be nearly enough to stop the massive collapse that is coming.  This will be explained in detail toward the end of the article.  Hopefully we will get through October (and the rest of this year) without seeing a stock market collapse, but without a doubt one is coming at some point.  Those on the wrong end of the coming crash are going to be absolutely wiped out.
A lot of people focus on the month of October because of the history of stock market crashes in this month.  This history was detailed in a recent USA Today article….
When it comes to wealth suddenly disappearing, October can be diabolically frightful. The stock market crash of 1929 that led to the Great Depression occurred in October. So did the 22.6% plunge suffered by the Dow Jones industrial average in 1987 on "Black Monday."

The scariest 19-day span during the 2008 financial crisis also went down in October, when the Dow plunged 2,675 points after investors fearing a financial collapse went on a panic-driven stock-selling spree that resulted in five of the 10 biggest daily point drops in the iconic Dow's 123-year history.
So what will we see this year?
Only time will tell.
If a stock market crash does not happen this month or by the end of this year, that does not mean that the experts that are predicting a stock market crash are wrong.
It just means that they were early.
As I have said so many times, there are thousands upon thousands of moving parts in the global financial system.  So that makes it nearly impossible to predict the timing of events with perfect precision.  Financial conditions are constantly shifting and changing.
But without a doubt another major financial collapse similar to what happened back in 2008 (or even worse) is on the way.  Let's take a look at some of the financial experts that are predicting really bad things for our financial markets in the months ahead….
Doug Short
According to Doug Short, the vice president of research at Advisor Perspectives, the stock market is somewhere between 33% and 51% overvalued at this point.  In a recent article he offered the following evidence to support his position….
? The Crestmont Research P/E Ratio (more)

? The cyclical P/E ratio using the trailing 10-year earnings as the divisor (more)

? The Q Ratio, which is the total price of the market divided by its replacement cost (more)

? The relationship of the S&P Composite price to a regression trendline (more)
Peter Schiff
Peter Schiff, the CEO of Euro Pacific Capital, has been one of the leading voices in the financial community warning people about the crisis that is coming.
During a recent interview with Fox Business, Schiff stated that the massive financial collapse that we witnessed back in 2008 "wasn't the real crash" and he boldly declared that the "real crash is coming".
So is Schiff right?
We shall see.
Robert Wiedemer
Economist Robert Wiedemer warned people what was coming before the crash of 2008, and now he is warning that what is coming next is going to be even worse….
"The data is clear, 50% unemployment, a 90% stock market drop, and 100% annual inflation . . . starting in 2012."
Harry Dent
Financial author Harry Dent believes that the stock market could fall by as much as 60 percent in the coming months.  He is convinced that stocks are hugely overvalued right now….
"We have the greatest debt bubble in history. We will see a worldwide downturn. And when you are in this type of recessionary environment stocks should be trading at five to seven times earnings."
So are these guys right?
We shall see.
Article Continues Below
…
The Coming World "Fiat Currency" Collapse Video
THE MADNESS OF A LOST SOCIETY 2 : FINAL WARNINGS
Nearly 130 million Americans are on Gov't assistance. At what number do you start to call it communism?
America has clearly added elements of socialism…but how much before we start calling it communism?
Michael: The number of Americans receiving money directly from the federal government has grown from 94 million in the year 2000 to over 128 million today.  A shocking new research paper by Patrick Tyrrell and William W. Beach contains that statistic and a whole bunch of other very revealing numbers.  According to their research, the federal government hands out money to 41.3 percent of the entire population of the United States each month.  Overall, more than 70 percent of all federal spending goes to what they call "dependence-creating programs".  It is the most massive wealth redistribution scheme in the history of the world, and it continues to grow at a very rapid pace with each passing month.  But can we really afford this?  Of course we never want to see a single person go without food to eat or a roof to sleep under, but can the federal government really afford to support 128 million Americans every month?  If millions more Americans keep jumping on to the "safety net" each year, how long will it be before it breaks and it is not there for anyone?  The federal government is already drowning in debt.  This year the U.S. national debt will easily blow past the 17 trillion dollar mark and we are rapidly heading toward financial oblivion.  We are stealing more than 100 million dollars from our children and our grandchildren every single hour of every single day with no end in sight.  If we don't get our finances in order as a nation, what will the end result be?
According to Tyrrell and Beach, federal spending on entitlement programs has been rising more than 6 times as fast as population growth has in recent years…
Between 1988 and 2011, spending on dependence-creating federal government programs has increased 180 percent versus "only" a 62 percent increase in the number of people who are enrolled in federal government programs, and a 27 percent increase in the population. Not only are more people enrolled in government programs than ever before, but more US taxpayer dollars are being spent on each recipient every year.
But even though the numbers that Tyrrell and Beach present in their paper are incredibly shocking, the truth is that they have probably underestimated the true scope of government dependence in America today.  Just consider the following numbers…
Food Stamps
Back in the year 2000, there were about 17 million Americans on food stamps.  That number has exploded to more than 47 million today.
Medicaid
If you can believe it, today more than 70 million Americans are on Medicaid, and it is being projected that Obamacare will add 16 million more Americans to the Medicaid rolls.
Social Security
Right now, there are more than 53 million Americans on Social Security, and that number is projected to absolutely explode as huge waves of Baby Boomers retire in the coming years.
…
Household income growth in the US has largely been absent for well over a decade if we adjust for inflation.  This is important because people truly care about what their money can purchase.  What use is it getting a $1 raise if healthcare went up $2?  What use is it that you are earning $1,000 more a year when sending your kids to college now costs $5,000 a year more?  It is unfortunate so little attention is given to income growth when the available data is readily available.  Part of the lack of coverage probably stems from the reality that the mainstream press is largely an advertising vehicle.  Do not hold your breath for deep analysis and reporting from the press.  Telling people how their inflation adjusted incomes are back to 1990s levels isn't going to encourage people to go out and buy that new car, fancy tech gadget, or go into heavy debt for that new home.  Let us dive deep into the income data.
Where we stand with household income
The first chart we should look at is the median household income chart: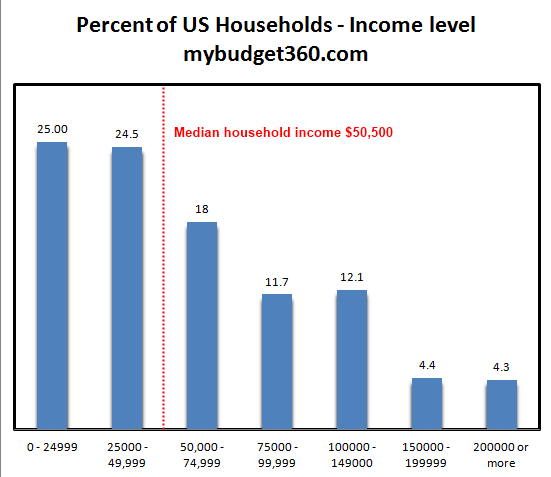 Source:  ACS, Census
…
546 views