ARE WE REACHING THE TIPPING POINT? ALMOST ALL FOMC MEMBERS SAW POTENTIAL QE COSTS AS INCREASING. 1994-LIKE SURPRISING TIGHTENING IMMINENT?
Retirement no more: Median net worth at lowest level since 1969 recent study finds.
There may be a temporary jubilee with the notion that the fiscal cliff has been deferred for a few months.  The media is quick to accept anything for a victory but very little has been done to stop our marching path onward on this massive debt spiral.  Many Americans continue to live in poverty with no visible exit.  The latest figures show over 47 million Americans on food assistance.  Many Americans as they enter their golden years are coming to fully rely on Social Security, a system that was on the table for being cut in the recent debates.  Since the Fed is creating asset bubbles and destroying fixed income investments, many older Americans are realizing that retirement is no longer a viable option given the rising costs in food, healthcare, and once again housing.  I see this on a monthly basis where you can spot older Americans in non-traditional and many times, temporary employment roles.  None of this intervention is ending up in household income.  In fact, when we examine real wealth the net worth of American's is down to the lowest levels since 1969 when adjusting for inflation.
A return home
Many baby boomers are being greeted with a grim reality.  Retirement may not be an option.  A recent paper from New York University highlights some dramatic figures for net worth data from 1983 to 2010.  The study found that 2010 median net worth in the United States hit its lowest point since 1969.  This research aligns with other figures we have found from the Fed Consumer Finance Survey: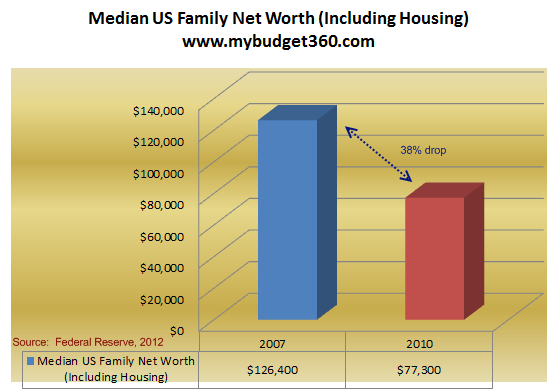 The data shows a crushing blow to the finances for most Americans.  The net worth of many Americans fell by nearly 40 percent between 2007 and 2010.  A large part of this has to do with the collapse in the housing market.  The Fed is trying its best to inflate that market once again but it is coming at a cost.  Many retirees rely on fixed income investments and these are taking a beating with quantitative easing.  Take a look at bond rates and CD rates and you will realize what a negative interest rate environment looks like….
Harvard's Feldstein Rips Fed's Quantitative Easing
The Federal Reserve is doing nothing but harm to the economy and financial markets with its quantitative easing, says Harvard economist Martin Feldstein.
The Fed is buying $85 million of Treasurys and mortgage-backed securities a month to keep interest rates low.
"What the central bank describes as 'unconventional monetary policy' is creating dangerous bubbles in asset markets that will lead to higher future inflation and is supporting the explosive growth of the national debt," Feldstein writes in The Wall Street Journal.
…
The problem is that when the Fed stops its quantitative easing, interest rates will rise and asset prices will fall, says Feldstein, former chairman of President Ronald Reagan's Council of Economic Advisers. 
"This will have serious adverse effects on investors, particularly highly leveraged institutions and pension funds."
…
REPUBLICAN SENATOR: We Might Need To Shut Down The Government To Get 'Fiscal Sanity'
ALMOST ALL FOMC MEMBERS SAW POTENTIAL QE COSTS AS INCREASING
FOMC Minutes Released: Dissension To QE4EVA Growing
Article Continues Below
While some were concerned at the Fed's new quantitative targets as suggesting early tightening, it appears (from the FOMC Minutes) that those fears were somewhat warranted (with most seeing QE ending in 2013):
*FED SAYS A FEW ON FOMC WANTED QE UNTIL ABOUT THE END OF 2013
*FED: SEVERAL ON FOMC BACKED QE HALT OR CUT WELL BEFORE 2013 END
*ALMOST ALL FOMC MEMBERS SAW POTENTIAL QE COSTS AS INCREASING
The punchline: "several" means more than just QE4 hater Jeff Lacker are turning hawkish. Though, even with the risks, they want moar. Pre-FOMC Minutes: ES 1460, 10Y 1.86%, EUR 1.3108, Gold $1674. Post: ES -6pts, 10Y +5bps, EUR -40 pips, Gold -$10.
So the risk-on-move reversed itself and became a very un-QE day. Stocks fell. The dollar shot up. Gold fell. Yields at the long end of the curve started to rise.
In light of this move, Citi's Steven Englander warns of a '1994'-like scenario.
Before the Minutes were released, there was little anticipation or discussion on payrolls. Now that the Minutes are out and have raised market fears that the fed will pull back from ease earlier than anticipated, investors are worried about a repeat of 1994, when a surprise Fed tightening after a long period of easy money (by standards of those days) devastated fixed income markets. Then 10yr Treasury yields rose 170bps over a two month period.    
In that light, you have to respect bond market skittishness, whenever 10yr Treasury yields go up by 21bps over three business days. We are not convinced this is what the Fed intended to convey. With fiscal tightening taking 1%+ off US GDP growth in 2013 and mortgage spreads versus Treasuries wider than the Fed hoped for, monetary conditions may not be as easy relative to underlying domestic demand as the Fed intended.
However, you have to respect the market response. And if payrolls come anywhere near close to a 200k handle we will very likely see further a further equity and fixed income sell off….
Charles Hugh-Smith: We are living in the United States of Delusion
The irony is that clinging to delusion rather than face the necessity of deep cuts in borrow-and-squander budgets will lead to the involuntary reset of the entire system, depriving every vested interest of their share of the swag.
We are living in the United States of Delusion. The delusion has four key sources:
1. We can borrow-print-and-spend our way to prosperity when debt and fiscal/monetary stimulus are yielding ever more marginal returns:
The Dangerous Blindspots of Clueless Keynesians
 (January 2, 2013) 
The Keynesian model is a Cargo Cult, mired in a distant, romanticized past where Central Planning, intervention and manipulation were solutions rather than the root of the economy's fatal disease.
2. The risks of this fatal fiscal delusion are masked by a complicit Mainstream Media and a perception-management, manipulation-dependent Central State and Federal Reserve.
Spoiled Teenager Syndrome
 (January 3, 2013) 
Masking risk, cost and consequence creates an illusory world that eventually crashes on the unforgiving rocks of reality.
Is masking risk, cost and consequence a strategy that leads to success? No; it is a pathway to repeated catastrophic failure. What is the Central Planning strategy being pursued by our Central State and the Federal Reserve? Masking risk, cost and consequence.
3. The true costs of the Neoliberal Cartel State are cloaked, massaged and distorted by bogus budgets and wildly unrealistic projections.
….
0 views