Banks could make nearly $2 billion by 2015 from selling your shopping data
Banks sell consumers' shopping data to retailers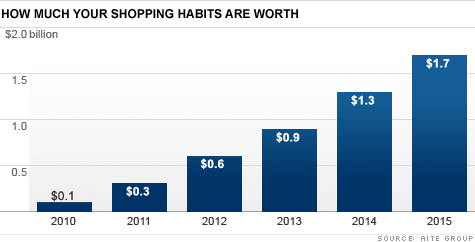 Banks could make nearly $2 billion by 2015 from selling your shopping data.
NEW YORK (CNNMoney) — Banks have found a new revenue stream — and this time, it doesn't involve hitting you up with a new fee.
Many of the nation's leading banks are selling information about their customers' shopping habits: How much they spend, where they shop, what they buy.
In turn, retailers are using the data to offer targeted discounts via text, email and online bank statements.
And each time a consumer cashes in on one of those deals, the retailer pays the bank a nice commission.
At a time when government regulation is forcing banks to hike fees and eliminate consumers perks, selling consumers' shopping data is not only an easy way to generate a decent chunk of revenue but also to drum up some much-needed customer loyalty.
Aite Group, an independent Boston-based research firm specializing in financial services, forecasts that these merchant-funded incentives will drive $1.7 billion in annual revenue for card issuers by 2015.
Many of the nation's largest banks and card issuers have rolled out these incentive programs. Among them: Wells Fargo (WFC, Fortune 500), Citi (C, Fortune 500) and Discover (DFS, Fortune 500).
Merchants pay banks an average fee of 10% to 15% of the purchase price of a product each time a customer uses a discount that's generated from the bank's data, according to Cardlytics, an intermediary that works with both banks and retailers.
Typically, the bank takes a 25% cut of that fee and pays the rest to an intermediary, like Cardlytics. So if a customer buys a $1,000 couch, the merchant pays a fee of up to $150 to the bank and the bank walks away with $37.50.
'Better than Groupon'?
While the new incentive programs may have been created to benefit the banks, the targeted deals could actually end up benefiting consumers as well, said Madeline Aufseeser, senior analyst at Aite Group.
"It's better than Groupon and LivingSocial," said Aufseeser. "Consumers are now going to see offers they're actually interested in because they'll be based on spending behavior."
Here's how it works: Say you use your Citi-issued debit card to buy a pair of shoes at Nordstrom, and then Citi sells that information to a series of retailers. As a result, you receive a coupon from Macy's for a 20% discount on shoes at its store. The coupon is delivered by Citi, however, not from Macy's.