BREAKING: Something goes BEZERK in Atlantic Ocean! Monster weather storm to hit US East Coast… and 2 storms hit Great Britain… All this week!
US East Coast!!!
Monster storm to blast East Coast before polar vortex uncorks tremendous cold late this week!!!!!
Unforgiving cold has punished the eastern third of the United States for the past 10 days. But the most severe winter weather will assault the area late this week.
First, a very large and powerful storm will hammer coastal locations from Georgia to Maine with ice and snow. By Thursday, the exploding storm will, in many ways, resemble a winter hurricane, battering easternmost New England with potentially damaging winds in addition to blinding snow.
Forecasters are expecting the storm to become a so-called "bomb cyclone" because its pressure is predicted to fall so fast, an indicator of explosive strengthening. The storm could rank as the most intense over the waters east of New England in decades at this time of year.
@RyanMaue: All day Thursday meteorologists are going to be glued to the new GOES-East satellite watching a truly amazing extratopical "bomb" cyclone off New England coast. It will be massive — fill up entire Western Atlantic off U.S. East Coast. Pressure as low as Sandy & hurricane winds
The responsible storm is forecast to begin taking shape off the coast of Florida Wednesday, unloading hazardous snow and ice in highly unusual locations not accustomed to such weather. The National Weather Service has already posted winter storm watches from Lake City, Fla. to Norfolk
It is then expected to explosively intensify, buffeting the Mid-Atlantic beaches and eastern New England, where winter storm watches have also been issued.
https://www.washingtonpost.com/news/capital-weather-gang/wp/2018/01/02/monster-storm-to-blast-east-coast-before-polar-vortex-uncorks-tremendous-cold-late-this-week/?utm_term=.dac0a1a6c524
==========================================================
Great Britain!!! 
Storm Caroline WARNING: 'Hazard to LIFE' alert as ARCTIC FREEZE to smash Britain
January 1, 2018
The far north of Great Britain is braced for 90-mph gales as Storm Caroline smashes the region over the next 12 hours triggering 'danger to life' warnings.
Communities have been urged to prepare for winds strong enough to damage trees, hurl debris and throw transport networks into chaos.
While Scotland and the north are in the firing line for the full hit of the assault nowhere will escape the strong winds, experts warn.
The storm will die down tonight as the floodgates open for the latest bitter Arctic blast to engulf the nation tomorrow.
In the far north we could see winds of 90 mph with gusts reaching 70 mph to 80 mph more widely
Grahame Madge – Met Office spokesman
Overnight temperatures will nosedive widely below freezing through the weekend with an icy windchill making it feel close to minus 10C (14F).
The Government last night ramped up a cold health alert to level-3 'severe weather action' warning.
https://kaplanherald.com/2018/01/01/storm-caroline-warning-hazard-to-life-alert-as-arctic-freeze-to-smash-britain/
2 January 2018 • 3:50pm
Thousands of homes have been left without power as Storm Eleanor hit Britain with winds of up to 80mph.
Forecasters warned lives could be at risk from flying debris as the fifth-named storm of the season arrived on Tuesday evening.
An amber weather warning was issued for southern parts of Northern Ireland and northern England as well as southern fringes of Scotland overnight.
Around 22,000 houses in Northern Ireland and scores more in England were affected by power cuts.
Northern Ireland Electricity Networks said it restored supply to 10,000 properties but another 12,000 would be without power overnig
http://www.telegraph.co.uk/news/2018/01/02/storm-eleanor-britain-braced-80mph-winds/
UK weather: Unprecedented DUAL STORM to BATTER Britain in ferocious New Year gales
AN ALMOST unprecedeted DUAL STORM will unleash ferocious gales, torrential rain and floods putting lives at risk across Britain this week.
By Nathan Rao
PUBLISHED: 00:01, Sun, Dec 31, 2017
Storm Dylan was hampering New Year preparations in parts of the country on Sunday amid warnings of more to come.
And Government forecasters are not ruling out another named storm – Eleanor – over the coming days.
Nowhere will escape the fury of the weather as 70mph gales clash with high tides hurling huge waves over defences.
Torrential downpours on saturated ground have prompted more than 70 Environment Agency flood alerts and four more serious flood warnings.
The Met Office warned to expect a "very unsettled week" with strong winds and rain targeting all parts of the country.
https://www.express.co.uk/news/weather/898428/uk-weather-latest-met-office-weather-bbc-rain-wind-new-year-update-travel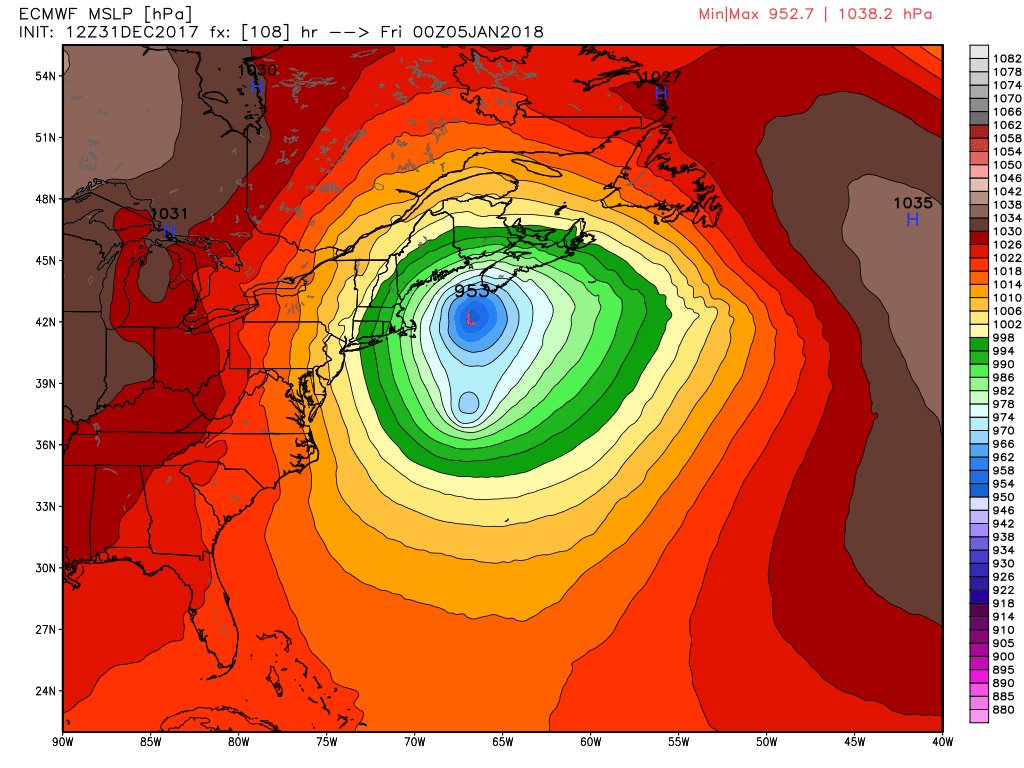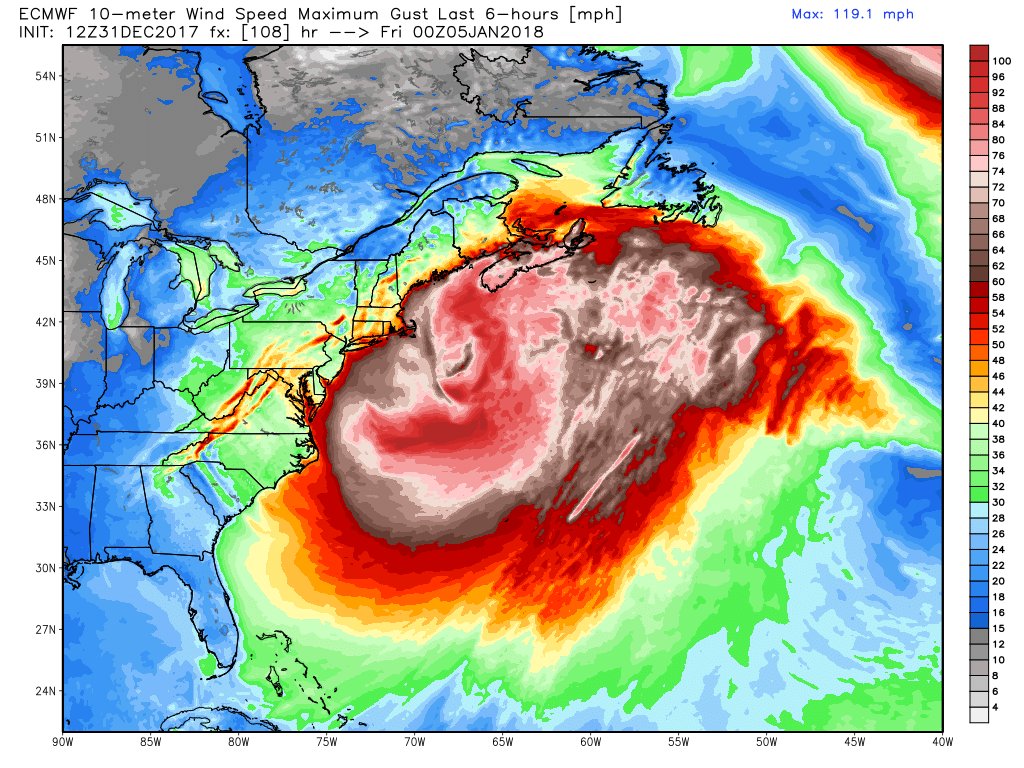 "This storm developing off the Southeast coast will meet the meteorological criteria of a "bomb" as it rapidly intensifies."
https://www.zerohedge.com/news/2018-01-02/bomb-cyclone-set-detonate-east-coast
h/t Digital mix guy