CHART: A dangerous setup in the bond market…
From Jeff Clark, Editor, Stansberry Short Report:
U.S. Treasury bonds are considered a "safe haven" trade.
Investors flock to Treasury bonds, or "T-bonds," in times of trouble or uncertainty.
And over the past few months, T-bonds have performed well. Investors are nervous about the European Union possibly breaking apart… a potential global recession… and the upcoming elections in the United States.
We don't often see T-bonds rally like they have over the past two months. The 30-year T-bond has gained about 10% since May.
That's a terrific return for a stock. But for a bond, it is insane…
You see, T-bonds are considered the most stable, secure, and safe investments on the planet. A double-digit move in two months is far outside the norm.
And it now looks like we're reaching a short-term danger point. Take a look at this 60-minute chart of the iShares 20+ Year Treasury Bond Fund (TLT) – an exchange-traded fund that tracks the price of long-term T-bonds…
Article Continues Below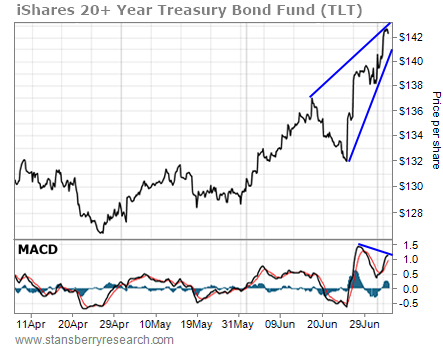 This chart is forming a bearish rising-wedge pattern with negative divergence on the moving average convergence divergence (MACD) momentum indicator. This type of pattern usually breaks to the downside.
In this case, a breakdown could lead to a move for TLT all the way back to about $132 per share. That would essentially take back all of the gains in the Treasury bond market since the "Brexit" vote late last month.
There's room inside the wedge for TLT to push higher just one more time. It's trading at around $142.50 today. Maybe it can run to as high as $144 per share. But there's a lot more risk than reward to owning TLT here – at least for the short term.
This is a dangerous setup.
After an 11% rally in just two months, the Treasury bond market is looking a little frothy. Investors buying T-bonds as a safe haven for their money today could regret it in a few weeks.
Best regards and good trading,
Jeff Clark
26 views