Crash Inevitable? The Stock Market Action This Year Is Eerily Similar To 2007 And The Last Time We Saw A Divergence Between Macro (Higher) And Stocks (Flat To Lower) Was Summer 2008…
This line could set off a "major sell signal" for stocks
The stock market action this year is eerily similar to 2007.
Back then, the S&P 500 started off the year with a strong rally before a summertime correction gave back all the gains. Stocks rallied again and hit their highs of the year in October. Then we got a sharp drop in November and a rally to a lower high in December.
Stocks started off strong in 2012. Then a summertime correction gave back nearly all the gains. The S&P 500 rallied to hit its high of the year in October. Then we got a sharp drop in November and a rally to a lower high (so far) this month.
The anecdotal evidence is similar, too. Restaurants aren't filling up anymore. And in-store Christmas shopping isn't as robust as expected…
By the end of 2007, I turned bearish. Not because of anything mentioned above – but because the monthly chart of the S&P 500 closed below its 20-month exponential moving average (EMA).
The 20-month EMA is the line in the sand that separates bull markets from bear markets. As long as the S&P 500 is trading above the line, stocks are in a bull market. But when the index drops below the line, the bear is in control.
As you can see from the following chart, this indicator timed the bear markets of 2001 and 2008 almost perfectly…
Markets & Macro – 2008 And Today
It seems left, right, and center we hear that fundamentals are currently supportive of equities. However, dismal earnings outlooks (and historicals) aside, we have seen the current pattern of macro-economic data 'outperforming' economists' expectations while stocks don't appear to fully play along before – it was mid-2008. As is clear from the chart below, the rapidity of the collapse in macro data should be greatly concerning to any and all who think there is even a possibility we go over the cliff – as, for sure, economic expectations are not priced for that at all(and stocks for at worst a modest macro weakening only).
The last time we saw a divergence between macro (higher) and stocks (flat to lower) was Summer 2008…
…
The latest sign of an economic downturn came Tuesday in a U.S. Commerce Department report showing imports to the United States have fallen two consecutive months after dropping 8.4% in the third quarter and 2% the previous quarter.
Robert Brusca, chief economist at FAO Economics, told MarketWatch when the economy weakens, imports decline quickly.
Brusca called the latest figures a "red flag" and said a 2013 recession is a "real risk."
The last time imports declined for two quarters was in 2009, at the end of a four-quarter decrease in imports during the Great Recession.
More Signs of Recession 2013
Signs of a possible recession in 2013 date to August when the Commerce Department reported orders for durable goods fell 13.2% and inflation-adjusted personal income dipped 0.3%.
Now Morgan Stanley (NYSE: MS) has released grim projections for 2013. The bank said the global economy could see a "twilight zone" of little growth next year, which will get worse if policymakers fail to reach a fiscal cliff deal. MS analysts forecast a full-blown recession in 2013 if we go over the cliff, with the gross domestic product likely to shrink 2%.
Article Continues Below
In a recent report, Morgan Stanley wrote, "More than ever, the economic outlook hinges upon the action taken or not by governments and central banks."
…
Markets will be first over the "cliff," if politicians don't show real signs of compromise on taxes and spending cuts in the next several days.
The "fiscal cliff" is edging closer, with the White House and Republicans still far apart on the issue of taxes and Washington now shut down for the Christmas holiday. The cliff is the more than $500 billion double whammy to the economy from expiring tax breaks and the onset of automatic spending cuts if Congress doesn't act before Jan. 1.
The chances of going off the cliff are increasing, and that could push the economy into recession, according to Congressional Budget Office projections.
The markets are still seeming to expect a resolution, but the expectations have been lowered and many expect a smaller plan, which would do the minimum and offer little in the way of tax or entitlement reform. Since the time is short, many are also now expecting to see a deal and votes in early January, but President Barack Obama said late Friday he would still push to get a deal done by year end.
Pimco's El-Erian: Ugh, Recession Is Now More Likely
Here is a simple way to think about the political calculus of Washington's latest twists and turns. And — unfortunately — it suggests that economic and market dislocations may be needed to get our politicians to cooperate and govern properly.
A major issue from day one was the extent to which the lack of trust between our political parties undermined Washington's ability to govern. (Read More: Boehner Says GOP Open to Deal as Congress Breaks)
Hoping to resolve this problem and thus deliver consensus, party leaders opted in the summer of 2011 for a very big stick: threaten the country with a major economic setback as a way to get the rank and file of both parties to cooperate.
How 10,000 Contracts Crashed The Market: A Visual Deconstruction Of Last Night's E-Mini Flash Crash
Via Nanex:
On December 20, 2012, there was an Event in the eMini futures at 20:18:40 ET. The data exhibits many hallmarks of a HFT (High Frequency Trader) market maker absorbing sell orders up to their limit, and then turning around and dumping those contracts as fast as possible. Exactly what happened in the Flash Crash on May 6, 2010 (this documentary on youtube has a great explanation). Only in this case, the original seller appears to be much more aggressive than Waddell & Reed's algorithm. The drop came in 2 seconds, and halted trading for 10 seconds. The flash crash halted eMini trading for just 5 seconds. A mere 10,000 contracts (or $700mm notional) was enough to do all that damage – enjoy.
First 6 charts show our depth maps of the ES.H13 (March 2013 S&P 500) Futures Contract.
1. Close-up of drop, illustration the 10 second gap – when CME stop logic kicked in. Note flash crash only halted for 5 seconds.
---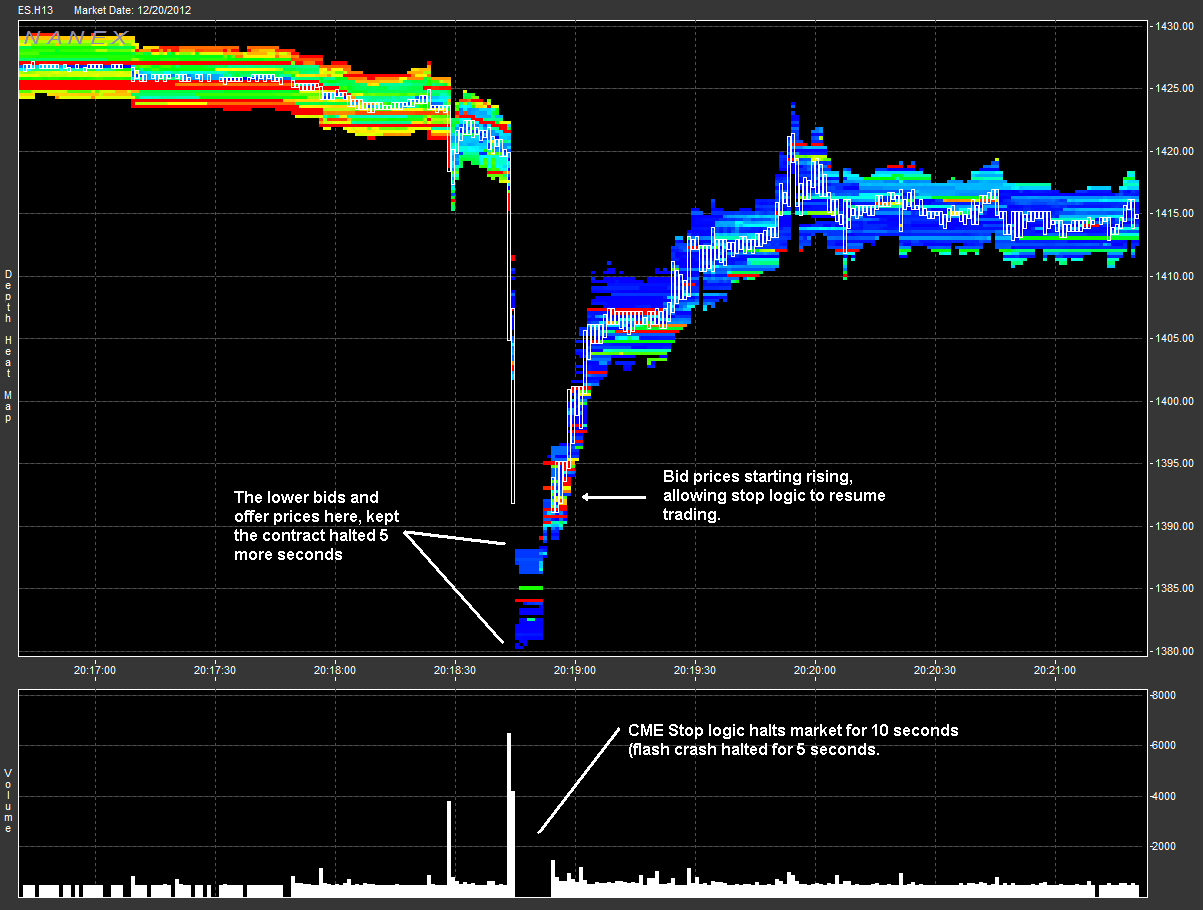 …
6 views