Dollar Collapse Update: Fed Buys 90% Of New U.S. Bonds, CHINA Overtaking US As Global Trader, And The Global Economy Has Done A Complete 180, Now It's The US' Turn To Be Weak.
Treasury Scarcity To Grow As Fed Buys 90% Of New U.S. Bonds
from sfgate:
Even as U.S. government debt swells to more than $16 trillion, Treasuries and other dollar fixed- income securities will be in short supply next year as the Federal Reserve soaks up almost all the net new bonds.
The government will reduce net sales by $250 billion from the $1.2 trillion of bills, notes and bonds issued in fiscal 2012 ended Sept. 30, a survey of 18 primary dealers found. At the same time, the Fed, in its efforts to boost growth, will add about $45 billion of Treasuries a month to the $40 billion in mortgage debt it's purchasing, effectively absorbing about 90 percent of net new dollar-denominated fixed-income assets, according to JPMorgan Chase & Co.
….
$16,369,548,799,604.93
The Daily History of the Debt Results
Historical returns from 11/24/2012 through 11/30/2012
The data for the total public debt outstanding is published each business day. If there is no debt value for the date(s) you requested, the value for the preceding business day will be displayed.
( Debt Held by the Public vs. Intragovernmental Holdings )
| Date | Debt Held by the Public | Intragovernmental Holdings | Total Public Debt Outstanding |
| --- | --- | --- | --- |
| 11/23/2012 | 11,474,590,079,642.49 | 4,832,898,863,921.74 | 16,307,488,943,564.23 |
| 11/26/2012 | 11,474,648,831,627.28 | 4,835,089,224,735.16 | 16,309,738,056,362.44 |
| 11/27/2012 | 11,476,501,231,339.55 | 4,841,180,535,101.89 | 16,317,681,766,441.44 |
| 11/28/2012 | 11,476,984,527,323.06 | 4,829,728,611,145.81 | 16,306,713,138,468.87 |
| 11/29/2012 | 11,493,262,670,990.22 | 4,829,820,778,614.76 | 16,323,083,449,604.98 |
| 11/30/2012 | 11,553,200,614,797.95 | 4,816,348,184,806.98 | 16,369,548,799,604.93 |
====================================================================================================================================================
from Michael:
Over the past few years there have been a whole host of new international currency agreements that encourage the use of national currencies over the U.S. dollar.  The following are just a few examples…
1. China and Germany (See Here)
2. China and Russia (See Here)
3. China and Brazil (See Here)
4. China and Australia (See Here)
5. China and Japan (See Here)
6. India and Japan (See Here)
7. Iran and Russia (See Here)
8. China and Chile (See Here)
9. China and the United Arab Emirates (See Here)
10. China, Brazil, Russia, India and South Africa (See Here)
Will this movement soon become a stampede away from the U.S. dollar?
from WashingtonBlog:
And in a must-read article, AP analyzes IMF data on 180 nations' trade with China – and concludes that China has surpassed America as the world's "top global trader":
Article Continues Below
As recently as 2006, the U.S. was the larger trading partner for 127 countries, versus just 70 for China. By last year the two had clearly traded places: 124 countries for China, 76 for the U.S.

***

Despite China's now-slowing economy, its share of world output and trade is expected to keep rising, with growth forecast at up to 8 percent a year over the next decade, far above U.S. and European levels.

***

The United States is still the world's biggest importer, but China is gaining. It was a bigger market than the United States for 77 countries in 2011, up from 20 in 2000, according to the AP analysis.

***

The United States still does more trade overall – but just barely. If the trend continues, China will push past the U.S. this year, a remarkable feat for a country so poor 30 years ago that the average person had never talked on a telephone.

***

China resumed its upward trajectory in the last two years. Even with key Western markets in a slump, exports are up 58 percent since 2009. Imports are up an even sharper 73 percent.

 
…
QE4 = END OF THE WORLD
A weak currency is the sign of a weak economy, and a weak economy leads to a weak nation. 


Ross Perot

 
The Global Economy Has Done A Complete 180, Now It's The US' Turn To Be Weak. ISM MANUFACTURING FALLS TO 49.5 (Analysts Expected 51.4)!!! Differences Between First Half Of Year And Remaining Half Are Very Dramatic
from businessinsider:
For much of the year, the big story was that the US economy was the world's strongest, refusing to succumb to weakness, even as Europe went into crisis, and China flirted with a hard landing.
Because of this, the US stock market was a star performer.
But for the moment, things are doing a 180...
As we wrote earlier, one of the big stories from today's PMI reports was the strength of the BRICS. China, Brazil, South Africa, India, and Indonesia all turned in good reports.
Europe was stable too. Eurozone PMI hit its highest level in 8 months.
And this time it was the US ISM report that laid a brick, with the headline number going sub-50 (signaling contraction) and various sub-indices doing poorly….
BIG MISS: ISM MANUFACTURING FALLS TO 49.5 (Analysts Expected 51.4)!!! Differences Between First Half Of Year And Remaining Half Are Very Dramatic
ISM Mfg prints at lowest in 2012
More on the ISM report: The 49.5 read is a big miss, the 4th contraction in 6 months, and the lowest print since July 2009. It was led by big drops in New Orders and Employment, but also Inventories, which declined 5 points to 45. Customers' Inventories dove 6.5 points to 42.5, suggesting purchasing managers feel they've gotten far too lean. 
from MarketWatch:
U.S. manufacturers contracted in November and activity fell to the lowest level since July 2009, as new orders sank and employment plans were scaled back, according to the closely followed ISM index. The Institute for Supply Management index fell to 49.5% from 51.7% in October. Economists surveyed by MarketWatch had expected the index to remain flat at 51.7%. Reading under 50 indicate more manufacturers are shrinking instead of expanding. The index has now fallen in four of the last six months. The ISM's new-orders gauge sank to 50.3% from 54.2%, although the production index edged up to 53.7% from 52.4%. The employment gauge declined to 48.4% from 52.1%, the lowest level since September 2009. Earlier Monday, a similar U.S. manufacturing survey produced by Markit rose to a six-month high of 52.8 in November.
U.S. Recession 2013 100% Risks Follow On
from marketoracle.co.uk:
Courtesy of Doug Short : Professor Piger updated his recession probability model that caused so much attention early November (See "Debunking 100% probability of recession").
As we forecast last month, the probability index undertook a "revision" of epic proportions as displayed below (01-Dec-12 vintage):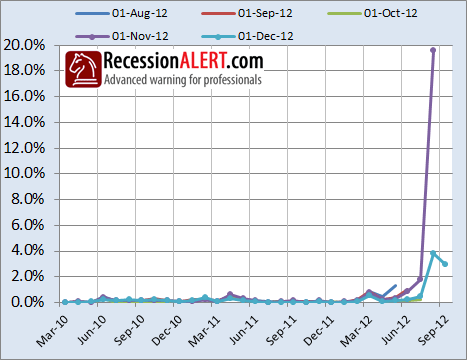 …
END OF THE DOLLAR BILL AND COMMON COINS? Congress Looks At Doing Away With The $1 Bill And The Penny And Nickel Coins!
48 views