Election Fraud Story Gets Worse: Irregularities Tied to E-Voting Machine Companies that Donated to Clinton Fund
From the same people who released the study showing the extraordinarily high probability that Hillary Clinton exceeded exit polling results in states that had no paper trail to use to audit the vote, we now get some even more "interesting" developments.
It seems that Hillary did especially well in which states where the owners of two of the three companies that make and support e-voting machines, donated to the Clinton Fund.
Interestingly, much information has recently come to light about the Clinton candidacy. Notably, the hacker Guccifer 2.0 released documents which he took from the computer network of the Democratic National Committee. Among these files, one tabulated a list of big-money donors to the Clinton Foundation. One fact has gone unreported in the media: Two of the three companies that control the electronic voting market, namely Dominion Voting and H.I.G. Capital (i.e. Hart Intercivic), are in this list of big-money donors.

To examine the possibility that the products linked to these companies had been used to commit electoral fraud, we borrowed the methodology of a paper by Francois Choquette and James Johnson (C&J). Their paper is based on one of the basic principles in the biological and social sciences: As the amount of data increases, the measurement of the average approaches the 'true' average. In other words, as more data is added, the average fluctuates less and less. […]
You see, these same voting irregularities had been shown to occur in the 2008 and 2012 elections in favor of McCain and Romney, respectively, by the researchers, Choquette and Johnson. In 2008 and 2012, McCain and Romney" were "financially interconnected with two of the major electronic voting companies." Both the companies who donated to the Clinton Foundation share a history of past election controversies and conviction for white collar crimes.
…
Heer's that result as expressed in a bar graph. The blue bars show what the pre-election polls predicted the percentage of votes Hillary would receive versus the red bars, which show the actual election result for Clinton.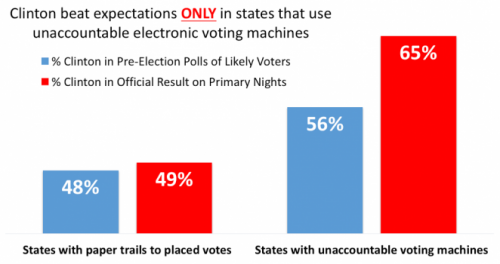 …
http://www.caucus99percent.com/content/election-fraud-story-gets-worse-irregularities-tied-e-voting-machine-companies-donated