Eric Braverman Had A Reason To "GO DARK" After Leaving The Clinton Foundation.
by Pamela Williams
UPDATE TO http://investmentwatchblog.com/missing-ceo-of-clinton-foundation-eric-braverman-appears-to-be-in-fbi-custody-missing-arms-dealer-mark-turi-who-was-the-benghazi-fallguy-possibly-dead/
PART ONE:
Eric Braverman Ex-CEO of the Clinton Foundation had every reason to "go dark" after he resigned from the Foundation.  Chelsea Clinton hired him, because the foundation needed to address recommendations from a 2011 audit.  She had risen to power at the Foundation, while realizing the criminalities she observed had to be addressed.  Her parents had become wealthy, as they broke all the rules with no boundaries in place to stop them.
Braverman was an old friend and associate of Chelsea's, and she felt she would have an insider within the Foundation to help her implement the changes she knew had to come. Chelsea had enough intelligence to know at the rate her parents were breaking the law, the Foundation could slip through her fingers at any time.
In addition, Clinton was readying herself to campaign for the Presidency. No one was concerned about how the Clinton Foundation would weather that but Chelsea.  Everyone else was too busy collecting their riches while thinking they were beyond the law…what a criminal infestation Chelsea and Braverman walked into.  Braverman did not have a clue.
While Braverman was busy at the Foundation, the POLITICO magazine was evidently interested in the changes he was making.  They were working up to doing a piece on Braverman and the Foundation when he suddenly resigned.
QUOTED FROM POLITICO:
When Braverman arrived to replace Lindsey as CEO, he moved quickly to adopt the auditor's recommendations, and then some. He diversified the foundation's board beyond the Clintons and their longtime political allies and restructured its finance department. He oversaw the creation of a $250 million endowment and implemented data-driven analytics to measure the effectiveness of foundation programs.No public explanation was offered for Braverman's resignation.  http://www.politico.com/magazine/story/2015/03/clinton-foundation-eric-braverman-115598
In a WIKILEAKS EMAIL DROP, this email was recovered.  It was sent from POLITICO to the Foundation asking pertinent questions which pertained to Eric Braverman/Clinton Foundation.  POLITICO wanted to do a series of articles.  I would say answering the below questions must have been quite a challenge at the Foundation.  https://wikileaks.org/podesta-emails/emailid/21802
> 1 – How many employees did the Clinton Foundation have when it started and how many does it have now?> 2 – How many of its employees work in the offices of the former president, the former secretary of state and Chelsea Clinton, respectively?> 3 – Before Brian Cookstra, had all the communications staffers worked under one of the three principles?> 4 – Did the foundation act on the Simpson Thacher recommendations to:> a.) Hold more frequent Board meetings, either in person or by telephone?> b.) Establish an audit committee to select, retain, evaluate, and terminate the independent auditor; periodically review the terms of the auditor's engagement; oversee the auditor's engagement; review the annual audit report; review the adoption and implementation of internal controls; review any whistleblower complaints involving financial matters; and review any potential conflict-of-interest transactions?> c.) Involve the Board in strategic planning, including pre-approving major new program initiatives and material changes to existing programs, and to have the Board periodically evaluate the effectiveness of existing programs and initiatives?> d.) Hire a president who reports to the CEO and is based in New York on a full-time basis?> e.) Adopt a clear gift acceptance policy and procedures to ensure that all donors are properly vetted?> 5 – Has the audit committee reviewed any whistleblower complaints involving financial matters and/or any potential conflict-of-interest transactions?> 6 – Did the foundation pre-approve Ira Magaziner's work on behalf of Dow Corning and other clients?> 7 – Why has Ira Magaziner been paid both a salary and in consulting fees through SJS Advisers?> 8 – For what did the foundation pay Lindsey's Little Rock-based law firm $27,000 in 2006 and has the foundation paid the firm in other years?> 9 – Is Bruce Lindsey paid by FONDO ACCESO SAS (in which the foundation invested $1,175,250 in 2013) for his position as a director?> 10 – How much were Bruce Lindsey, Ira Magaziner and Eric Braverman paid in 2014?> 11 – What changed between December 2014 – when the board renewed Eric Braverman's board term for another three years, and gave him a raise and a bonus – and early January when he resigned?> 12 – Was Eric Braverman asked to resign and, if so, why?> 13 – What was the purpose of the recent (completed in January) Simpson Thacher audit?> 14 – I understand the endowment is invested through Summit Rock Advisers. What role if any did Nicole Davison Fox play in facilitating or presenting Summit Rock's bid to manage the endowment fund?> 15 – I understand that the payments allocated to President Clinton from the Former Presidents Act through the General Services Administration for personnel and personnel benefits ($96,000 and $61,000, respectively, in 2014) were split among multiple aides to the former president, including Laura Graham. How many others have received pay or benefits from that program have worked at the foundation?> 16 – Other than the fundraiser hosted by Deven Parekh, how many fundraisers are any of the Clintons attending after the 3/4/15 gala?>
RELEASE: The Podesta Emails Part 15 https://t.co/wzxeh70oUm #PodestaEmails #PodestaEmails15 #imWithHer #HillaryClinton pic.twitter.com/UxQZbrgxa1

— WikiLeaks (@wikileaks) October 22, 2016
BATCH 15 taken from the https://theconservativetreehouse.com/2016/10/22/wikileaks-releases-batch-15-podesta-emails/
Eric Braverman gave the Clinton Foundation everything he had, and he faced so many obstacles every step of the way.
QUOTE FROM POLITICO:  But sources say Braverman's modernization efforts were hampered by the occasionally conflicting visions of the three Clintons, and their rival staff factions. Some told Braverman, "You don't know how this place works," while others—including Lindsey—second-guessed Braverman to Bill Clinton, according to sources familiar with the situation. They said a repeated refrain from the old guard was that Braverman was in it for his own glory.
Braverman referred requests for comment to the foundation.
Asked if Braverman was pushed out, foundation officials pointed to an official resignation  statement, in which Braverman thanked the foundation and the Clintons praised his leadership in helping "improve our governance structure, increase coordination across the Foundation and build better internal processes."
The foundation announced that, while it was looking for a permanent successor, longtime Clinton loyalist Maura Pally would serve as acting CEO. Other than a stint at Bloomberg Philanthropies (which has donated more than $100,000 to the Clinton Foundation's efforts), Pally had spent most of her professional life working for the Clintons, from Bill Clinton's White House to Hillary Clinton's 2008 presidential campaign and subsequent State Department term.
This account of Braverman's foundation tenure is based on interviews with about a dozen current and former Clinton Foundation staffers, Braverman associates, donors and Clinton allies, most of whom cited the coming presidential race in declining to be identified.
http://www.politico.com/magazine/story/2015/03/clinton-foundation-eric-braverman-115598
QUOTE FROM FREEREPUBLIC:  The Bill, Hillary and Chelsea Clinton Foundation, a $2 billion honey pot of money extracted from a mix of the venal influence-seekers and the charitable, attracts a lot of flies. Unsurprisingly, it appears that battles already are breaking out over control of the lucre. Chelsea Clinton, whose name was added to the foundation, it appears has attempted to install her own people, only to be rebuffed by those closely connected to her parents' political rise.
Politico Magazine has a lengthy report on the recent termination of Eric Braverman as CEO.  Braverman, who was Chelsea Clinton's boss during her brief employment at McKinsey & Company, was brought in to install more professional management of the nonprofit, and perhaps (my speculation) to head off questions of slush fund-like behavior, such as financing millions of dollars a year in luxury travel for the probably Democrat candidate for president in 2016.
In the words Kenneth Vogel, Braverman had only a "brief, and occasionally fraught tenure trying to navigate the Clintons' insular world."
Some brief excerpts:
Article Continues Below
At the foundation, sources say, Lindsey and other longtime Bill Clinton confidants hampered Braverman's reform efforts by warning the former president not to allow too many changes that could be interpreted as a course correction. The result was that Braverman would develop consensus around reforms, but, when he tried to implement them, the old guard would try to undercut him, say people familiar with his tenure. They say he lacked the political background or allies to navigate between the Clintons and their sometimes divergent power bases. (snip)
IN THE PART ONE I MADE MY CASE WHY ERIC BRAVERMAN HAD EVERY REASON TO "GO DARK" AFTER RESIGNING FROM THE CLINTON FOUNDATION.  NOW  IN PART TWO I WILL BE REPORTING ON THE INNER DEMONS HE HAD ENCOUNTERED WHILE BURYING HIMSELF DEEP INSIDE THE FOUNDATION.  WHETHER HE HAS SURVIVED ENCOUNTERING THOSE DEMONS, I DO NOT KNOW.  HOWEVER, I DO BELIEVE, AND IT IS JUST MY OPINION…HE IS IN PROTECTIVE CUSTODY AS WE SPEAK.
PART TWO – BELOW ARE THE CRIMINALITIES THAT CLINTON, INC. WERE INVOLVED IN: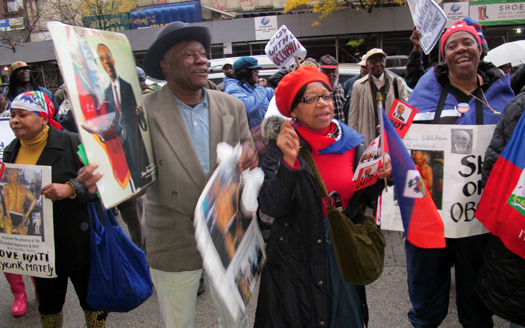 Protesters Gathered at Clinton Foundation to Complain of 'Missing State Dept US foreign aid Money' for Haiti Recovery
Protesters gathered outside the Clinton Foundation in Harlem to complain about "missing money" from the US State Dept's recovery effort for the 2010 Haitian earthquake:
"New Yorkers with roots in Haiti protested, saying the picture [of the Haiti recovery] isn't so rosy," said the NY1-TV anchor. "People raised their voices to call attention to the missing money.
They protested outside the offices of the Clinton Foundation, which helped lead the reconstruction fund."
The protesters claimed that the US State Dept's $10 billion meant to help rebuild Haiti did little to help the country after the devastating 2010 quake. And that much of the money went to non-Haitian companies. Said one proteser, "The Haitian people are still living in very difficult conditions, still living under tents, while Bill Clinton and his cronies–they waste this money." As secretary of state under the Obama administration, Hillary Clinton devoted much of her time in 2010 to the Haiti recovery.
1/15 By Daniel Halper (author of Clinton, Inc.: The Audacious Rebuilding of a Political Machine). http://freerepublic.com/focus/f-news/3263216/posts
News organs report the tax-exempt Clinton foundation(s) took billions in donation from foreign governments…..foreign governments that a putative president Hillary would make policy for, and for which she would wield the presidential pen.
The problem for the Buckraking Clintons isnt the morally reprehensible pocketing of foreign mega-bucks—it's what exactly they are doing with the foreign monies once its in their Foundation's tax-exempt coffers.
A CLUE—Court documents in Clinton pal Jeffrey Epstein's underage sex investigation show that Epstein had 21 private e-mail addresses and phone numbers listed for Clinton and Clinton factotum, Doug Band.
Epstein kept Bill Clinton on speed dial as reports surfaced about Clinton attending sex parties at Epstein's "Orgy Island." Lawyers perusing documents stumbled upon e-mail addresses and 21 phone numbers for the fun-loving ex-president and his personal aide, Doug Band, stashed away in Jeffrey Epstein's electronic directory, according to court documents.
QUESTION: Why does Clinton need 21 phone numbers? Does every phone number have an address and/or PO box number? Because L/E knows multiple phone no's is an indication of possible money-laundering and tax evasion.
CASE IN POINT One two-year federal investigation revealed an elaborate web to carry out multiple frauds. The frauds were carried out using non-existent people using fake identities, fraudulent SS nos, and phony tax ID numbers.
A sophisticated system of telephone voice-mail accounts and post office boxes were created to avoid detection. The charges involved racketeering, money laundering, wire fraud, making false statements, and bank fraud.  http://freerepublic.com/focus/f-news/3263216/posts
The trouble with Navigator started on Wednesday morning, March 11. Foundation officials became alarmed when they received an anonymous email from the watchdog's Donor Advisory committee informing them they would be added to the list on Friday, March 13, unless they could provide answers to questions raised in newspaper accounts. Among the press controversies the Navigator cited: A Wall Street Journal report that noted "at least 60 companies that lobbied the State Department during [Hillary Clinton's] tenure donated a total of more than $26 million to the Clinton Foundation." Politico, meanwhile, revealed that the Foundation failed to report to the State Department a $500,000 donation from the Algerian government, a violation of the ethics agreement the Clintons had arranged with the Obama White House. Politico also reported that the Foundation's former CEO, Eric Braverman, quit after a "power struggle" with "the coterie of Clinton loyalists who have surrounded the former president for decades." http://nymag.com/daily/intelligencer/2015/05/clinton-foundation-vs-a-charity-watchdog.html
BELOW IS THE REASON WHY HUMA AND HILLARY CREATED THE EMAIL SCANDAL:  PAY TO PLAY SCHEME: 
"With the NYPD in on it, in addition to the Department of Justice in New York, there's no way to contain the case by saying you're not allowed to pursue it from the FBI's point of view. The New York Police Department said, 'Well, we'll pursue it,'" Corsi said.
Corsi believes this story is about to explode, as he believes Clinton and Abedin moved all the emails in preparation for a pay-to-play scheme for access to her emails.
In addition, a Tuesday release from WikiLeaks shows a March 3, 2015, email from Clinton campaign chairman John Podesta to former Clinton State Department Chief of Staff Cheryl Mills urging a quick dispatching of unidentified emails.
"On another matter … and not to sound like Lanny, but we are going to have to dump all those emails so better to do so sooner than later," wrote Podesta.
"This is a crime scheme that stinks," Corsi said. "I think this WikiLeaks and this cache of 600,000 emails from the State Department, plus the other documentation we've gotten over time, I think this is going to be the biggest scandal in U.S. history, and it's just about to break."
Read more at http://www.wnd.com/2016/11/biggest-scandal-in-u-s-history-about-to-break/#gSITGRB8GPqJPPwj.99
PART 3 TO SUMMARIZE – A VERY PROMINENT INVESTIGATOR OF THE CLINTON FOUNDATION IS CONCERNED FOR ERIC BRAVERMAN: 
Ortel's "specific concerns" numbered 3-5 are listed in summary form as follows:
Specific Concern No. 3: For 2013, Key "consolidating" information for constituent Clinton Foundation entities was prepared by management and reviewed by independent auditors; however, the information appears deliberately withheld from public view.
Specific Concern No. 4: In relevant years, the Clinton Foundation either filed and obscured consolidating financial information or elected to cease filing consolidating financial information.
Specific Concern No. 5: The financial impact of fundraising for the speakers' endowment is not clearly delineated and segregated from results shown for operations.
Specific Concerns No. 6 and No. 7, dealing with the World Trade Organization and UNITAID, are the focus of the next WND article in the series.
What happened to Eric Braverman?
Specific Concern No. 8: In light of the irregularities noted in Specific Concerns 1-7, the agreement to extend former Clinton Foundation CEO Eric Braverman's employment contract in December 2014, combined with his subsequent and sudden departure just days later, early in January 2015, arouses deep suspicion, Ortel says.
Read more at http://www.wnd.com/2015/04/wall-street-analyst-uncovers-clinton-foundation-fraud/#CUoSGjfGRIJ2sL01.99
NEW UPDATE HERE: http://investmentwatchblog.com/update-to-eric-braverman-has-a-reason-to-go-dark-after-leaving-the-clinton-foundation-new-material-on-missing-marc-turi-and-operation-zero-footprint/
4,101 views