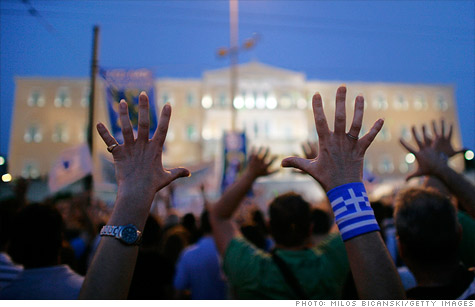 Protesters have taken to the streets of Athens, infuriated by the prospect of facing even more austerity measures.
NEW YORK (CNNMoney) — Prime Minister George Papandreou of Greece has prevailed in a vote of confidence, but next comes an even tougher challenge.
Papandreou has a tenuous hold on power and must get Parliament to approve a package of painful reforms, adding even more austerity measures to the ones administered last year.
This must be done to win the last $17 billion tranche of a $156 billion bailout package from other European nations that was granted in 2010, and also to clear the way for another potential bailout package to keep Greece afloat going forward.
"The good news is that we don't have to wake up to a Midsummer's Night nightmare this morning," wrote Deutsche Bank analysts Jim Reid and Colin Tan, in a research note. "However, there are still hurdles to overcome."
Greece's parliament is scheduled to vote on the new austerity measures, valued at about $112 billion, on June 28, according to Reid. This will be followed by a meeting of European Union finance ministers on July 3 to approve the final tranche of funding from last year's original aid package. – CNN