Breaking Alert: China Showdown? Carriers Stennis & Washington Team-Up along with F22 Squadrons from Alaska. F22s Deploy to Hawaii
Stennis is heading for the Persian Gulf – will Washington following making it 4 carriers off Iran's coast?
Or are they being positioned for a showdown with China?
Stay tuned.
120920-N-SF704-238 WESTERN PACIFIC OCEAN (Sept. 20, 2012) Operating to ensure security and stability in the vital Asia-Pacific region, two of the U.S. Navy's 11 global force aircraft carriers conducted readiness operations at the conclusion of exercise Valiant Shield. The Bremerton, Washington-based aircraft carrier USS John C. Stennis (CVN 74), foreground, the forward-deployed aircraft carrier USS George Washington (CVN 73), background, along with the San Diego-based guided-missile cruiser USS Mobile Bay (CG 53) exercised surface and anti-submarine training events as well as integrated flight operations in order to respond quickly to any future crises in the region.
http://sphotos-a.xx.fbcdn.net/hphotos-ash4/c191.0.403.403/p403x403/424588_426915597367291_894398298_n.jpg
http://www.facebook.com/stennis74
Looks like they are both positioned for a China conflict.
Washington just pulled into Guam on the heels of the deployment of an F22 squadron from Alaska.
http://www.facebook.com/notes/uss-george-washington-cvn-73/george-washington-arrives-in-guam-for-friendship-goodwill-by-lt-cmdr-james-stock/10151040522552452
Alaska Reserve F-22 unit becomes fully operational
"Fully operation capable means that we are ready and able to execute our wartime tasking," said Radliff.
http://www.f-16.net/news_article4622.html
F22's Deploy from Joint Base Elmendorf-Richardson, Alaska
http://www.dvidshub.net/video/156201/f22s-deploy-jber#.UFoPBK7Gr1U#ixzz26wS5roEc
Carter: "Our newest forces are going to the Pacific first." Says after highlighting F22 deployment and plans to station F35s in region.
Hawaii ANG has full complement of F-22 Raptors
http://www.f-16.net/news_article4624.html
http://www.hawaiinewsnow.com/story/19590629/hawaiis-f22-raptor-fleet-is-complete?utm_source=twitterfeed&utm_medium=twitter
Gen. Hostage: F22 is fully deployable … Our enemy sees it and it scares them.
https://twitter.com/usairforce
U.S. 5TH FLEET AREA OF OPERATIONS (Sept. 19, 2012) – An F/A-18F Super Hornet assigned to the Jolly Rogers of Strike Fighter Squadron (VFA) 103 launches from the flight deck of Nimitz-class aircraft carrier USS Dwight D. Eisenhower (CVN 69).
http://sphotos-b.xx.fbcdn.net/hphotos-ash3/s720x720/538687_474421135924369_1855615406_n.jpg
The Economist
This week's cover preview: Could China and Japan really go to war over these? Sadly, yes.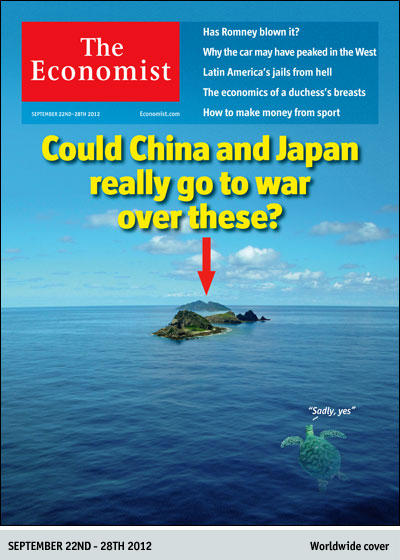 https://twitter.com/TheEconomist/status/248762916768210946/photo/1
– DB