Major Recession in 2013: US November Trade Deficit Soars To $48.7 Billion, Downward Q1 GDP Revisions Imminent!!! Wells Fargo And Morgan Stanley Layoff Thousands Ahead of Q4 Earning Reports. Inflation Running at 7% or Higher And The Market Is At Its Most Risk-On Level Since Just Before The Stock Market Crash That Began In 2007's Third Quarter.
US November Trade Deficit Soars To $48.7 Billion, Downward Q1 GDP Revisions Imminent
So much for the US trade renaissance. After posting a better than expected October trade deficit of ($42.1) billion, November saw the net importer that is the US revert to its old ways, with a massive deficit of some $48.7 billion – the worst number since April, far more than the $41.3 billion in expectations, which makes it the biggest miss to expectations since June 2010, driven by a $1.8 billion increase in exports to $182.6 billion, and a surge in imports which rose from $222.9 billion to $231.3 billion. Specifically "The October to November increase in imports of goods reflected increases in consumer goods ($4.6 billion); automotive vehicles, parts, and engines ($1.5 billion);industrial supplies and materials ($1.3 billion); foods, feeds, and beverages ($0.6 billion); capital goods ($0.4 billion); and other goods ($0.1 billion)." And with this stark reminder that the US has to import the bulk of its products, something which a weak USD does nothing to help, expect a bevy of lower Q4 GDP revisions, as this number may push Q4 GDP in the sub-1% category.
RBS cuts Q4 GDP to 0.7% from 1.5%
http://www.twitter.com/zerohedge
Time Inc. Will Lay Off 700 After 5% Ad Decline
Time Warner's Time Inc. will lay off up to 700 staffers out of just under 8,000 total as the publisher's new chief struggles to transform famous titles and massive market share into a digital profit center.
The staff cuts will come sometime in the first quarter, said a person familiar with the company's plans, and will be across the board — not just focused on editorial, where staffing has already been hard hit.
A Time Warner spokesman declined comment.
http://www.businessinsider.com/time-inc-will-lay-off-700-after-5-ad-decline-2013-1#ixzz2HgOWKcni
American Express to slash 5400 jobs!!
American Express Co. said Thursday that it will slash roughly 5,400 jobs, mainly in its travel business, as it seeks to cut costs and transform its operations as more of its customers shift to online portals for booking travel plans and other needs.
The job cuts will be partly offset by jobs that the company expects to add this year, however.
All told, American Express anticipates that staffing levels will end up being between 4 per cent and 6 per cent lower this year than in 2012. The company currently has 63,500 employees.
http://www.theglobeandmail.com/globe-investor/american-express-to-slash-5400-jobs/article7198379/
Deep Cuts Raise Questions About Morgan Stanley
These days, it is the Wall Street firm that is finding itself a bit boxed in.
Regulatory demands, weak markets and lower credit ratings have weighed on all banks, but perhaps more so on Morgan Stanley, the smallest of the big Wall Street firms. In the three years that Mr. Gorman, 54, has been at the helm, the bank has been progressively shrinking its business of trading bonds, commodities and other investments and expanding into wealth management.
Now the storied company — whose take-no-prisoners trading desks have at times been rivaled only by firms like Goldman Sachs — is cutting even deeper, raising questions among some on Wall Street about whether it should spin off or ditch much of its trading business as its Swiss rival UBS has, a suggestion the firm eschews.
Morgan Stanley is planning another deep round of cuts: 1,600 jobs, accounting for 6 percent of its support work force, and, more telling, 6 percent of institutional securities, which includes its once vaunted trading business.
The planned cuts come just a week ahead of the release of fourth-quarter earnings, which are expected to show the gains the firm has made since the financial crisis in areas like stock trading, banking and wealth management but still will be weighed down by the diminished earnings power of its fixed income business.
http://www.cnbc.com/id/100368204
Peter Schiff: Inflation Running at 7% or Higher 
The government reports that consumer prices rose 1.8 percent in the year through November. But don't believe that hype, says Peter Schiff, CEO of Euro Pacific Capital.
"The CPI [consumer price index] isn't an accurate measure of inflation," he tells Yahoo.
"It's sheer propaganda. Prices are rising at a much more rapid rate than the CPI would suggest."
…
"I don't care what the government is telling me. If the government weatherman tells me it's a sunny day and I can see it's pouring rain, I'm not going to believe the government, I'm going to go outside with an umbrella."
As for the true level of inflation, "If it's not 10 or 11 percent, it's certainly 7, 8 or 9 percent," Schiff says. "It's going to get a lot higher. If we keep printing money, … we're going to have a huge inflation problem."
…
Article Continues Below
Morgan Stanley's Doom Scenario: Major Recession in 2013
The global economy is likely to be stuck in the "twilight zone" of sluggish growth in 2013, Morgan Stanley has warned, but if policymakers fail to act, it could get a lot worse.
The bank's economics team forecasts a full-blown recession next year, under a pessimistic scenario, with global gross domestic product (GDP) likely to plunge 2 percent.
"More than ever, the economic outlook hinges upon the actions taken or not taken by governments and central banks," Morgan Stanley said in a report.
Under the bank's more gloomy scenario, the U.S. would go over the "fiscal cliff" leading to a contraction in U.S. GDP for the first three quarters of 2013. In Europe, the bank's pessimistic scenario assumes a failure of the European Central Bank (ECB) in cutting rates and a delay of its bond-buying program.
Mark Grant: "2013: The Year The Resplendent Masks Are Removed"
You hear it now all across Europe. "We are out of the woods, the crisis has ended, the worst is over" but I take scarce solace from these comments. The numbers have been falsified, the figures have been altered, and that which should have been counted as been ignored as a matter of political expediency. Bills uncounted do not mean that they do not have to be paid and obligations ignored do not erase them. The problems of Greece, Cyprus, Spain and Portugal have been wallpapered over and the "new look" has been sung to the Press and the citizens alike but the wet plaster remains behind the façade and the upcoming peeling will commence in our New Year. More money equates to lower yields in the short run and assurances of health prevail in the world for the moment but the raw data tells another story as capital diminishes and debts build and uncounted liabilities surface once more.   2012 was a year of a vast and complicated charade. 2013 is likely to be a year when the resplendent masks are removed. 
Continued Collapse In Capital Goods New Orders Confirms US Is In Recession
While the just released Durable Goods orders report for October came in modestly better than expected (which many thought would be a decline due to Hurricane Sandy), the primary driver of this continues to be record durable good inventory accumulation. Excluding the noise, and focusing only on real, non-noisy economic strength metrics such as New Capital Goods Orders (technically defined as the year over year change in Non-Defense Capital Goods Excluding Aircraft), a very different and far uglier picture emerges. In fact, the October Y/Y Plunge of -8.1% in this major indicator was the biggest drop since 2009.
http://nwostop.com/zero-hedge/48635-chart-of-the-day-continued-collapse-in-capital-goods-new-orders-confirms-us-is-in-recession
WSJ picks up on excess "deposits over loans" theme, reaches wrong conclusion: Wads of Cash
Wells Fargo Deposits Over Loans Rise To Record $176 Billion
Stock Market Charts the Bears Have Been Waiting For Have Arrived
Ben Gersten writes: As the bull market tries to enter its fifth year, many are wondering if it still has legs – but a handful of stock market charts warn there's high risk of a coming sell off.
In fact, a recent report from Credit Suisse Group AG (NYSE ADR: CS) outlined 10 technical factors that show the market is at its most risk-on level since just before the stock market crash that began in 2007's third quarter.
"Many of our tactical indicators point to a consolidation phase in the equity markets, in the near-term," Credit Suisse Global Equity Strategist Andrew Garthwaite said in a note to clients.
For a closer look at this bearish forecast, check out these five stock market charts pointing to a pullback.
Five Stock Market Charts Suggesting a Downturn
?Equity sentiment indicators are near a two-year high.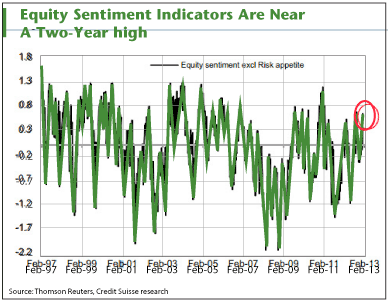 http://www.marketoracle.co.uk/Article38441.html
How rising bullishness could trigger a market meltdown by June
http://blogs.marketwatch.com/thetell/2013/01/10/how-rising-bullishness-could-trigger-a-market-meltdown-by-june/
4 views