Median income has hovered around $33,000 since 1988. Meanwhile, college tuition and fees have more than doubled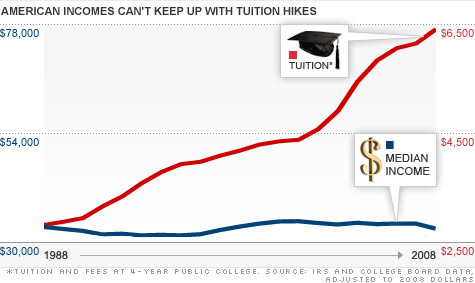 As portrayed on the left axis, median income has hovered around $33,000 since 1988. Meanwhile, college tuition and fees — portrayed on the right axis — have more than doubled.
NEW YORK (CNNMoney) — What do you get when college costs skyrocket but incomes barely budge? Yet another blow to the middle class.
"As the out-of-pocket costs of a college education go up faster than incomes, it's pricing low and medium income families out of a college education," said Mark Kantrowitz, publisher of financial aid sites FinAid.org and FastWeb.com.
The numbers confirm what most middle class families already know — college is becoming so expensive, it's starting to hold them back.
The crux of the problem: Tuition and fees at public universities, according to the College Board, have surged almost 130% over the last 20 years — while middle class incomes have stagnated.
Tuition: In 1988, the average tuition and fees for a four-year public university rang in at about $2,800, adjusted for inflation. By 2008, that number had climbed about 130% to roughly $6,500 a year — and that doesn't include books or room and board.
Income: If incomes had kept up with surging college costs, the typical American would be earning $77,000 a year. But in reality, it's nowhere near that.
Article Continues Below
In 2008 — the latest data available — the median income was $33,000. That means if you adjust for inflation, Americans in the middle actually earned $400 less than they did in 1988. (Read: How the middle class became the underclass).
Financial aid: Meanwhile, the amount of federal aid available to individual students has also failed to keep up. Since 1992, the maximum available through government-subsidized student loans has remained at $23,000 for a four-year degree.
"There does seem to be this growing disparity between income and the cost of higher education," said Justin Draeger, president of the National Association of Student Financial Aid Administrators. "At the same time, there's been a fundamental shift, moving away from public subsidization, to individuals bearing more of the cost of higher education."
Facing that disparity, it's no wonder then that two other trends have emerged: Families are taking on unprecedented levels of debt or downgrading their child's education from a four-year, to a two-year, degree to cut costs.
Student debt is often viewed as a good kind of debt, because a college education seems to promise a better future.
College grads, after all, have much lower unemployment rates than high school grads. And they earn $1 million more over their lifetimes, according to a much-quoted figure from the Labor Department . (Read: Is a college degree really worth $1 million?)
– CNN
0 views