Michael A. Gayed: Very suddenly, it feels like we are in the midst of a perfect storm. Our ATAC models keeping the portfolios we manage completely out of the stock market.
from Michael A. Gayed:
The decline in the S&P 500 and worldwide equities has been unrelenting so far this month, as the corrective risks I highlighted Oct. 1 and in every single writing since then have abruptly ended the reflation trade post QE3. On Nov. 5 I began pounding the table to " forget the elections " on the stark warning price was signaling through the return of the deflation pulse. Our ATAC models used for managing our mutual fund and separate accounts have sensed this for weeks, keeping the portfolios we manage completely out of the stock market.
Very suddenly, it feels like we are in the midst of a perfect storm given European austerity protests and public disputes over how to handle Greece, the threat of tax hikes under the Obama administration on dividends and capital gains, and the question of whether the Fed is " fighting itself ," as I speculated in my last writing in terms of actually causing deflation expectations to rise by removing a sense of urgency for money to move throughout the economy. Indeed, one could argue that the Fed has destroyed the ultimate weapon of all — the element of surprise.          
This is not just a U.S. story. Certainly the fiscal cliff, which has been known for some time as a risk to the markets, is causing distortions within intermarket trends to take place. However, Germany appears to be in the early stages of weakening at a faster pace than the U.S. China and emerging markets, which have otherwise been strong, appear to be breaking down and may be vulnerable to another period of lagging….
DERIVATIVE MARKETS CONTRACTING: Credit And Derivatives Are Decreasing At An Alarming Rate!! Market Crash Inevitable?
Forget the "fiscal cliff." The real panic on Wall Street is over Apple's stock.
Nearly every mutual and hedge fund has piled into Apple during its spectacular rise over the past few years. Now, these same funds are scrambling for the exits as the stock goes through an equally spectacular decline.
Apple plunged to a six-month low Thursday as funds rushed to take profits on the stock before it's too late. Shares are now off 25 percent since late September—shortly after the iPhone 5 launch and a month before the iPad Mini introduction.
The stock, once up 74 percent on the year, is still up 30 percent for 2012. That's why Wall Street is getting out while it can.
Already? Obama Tells Supporters to Expect 'Bitter Pills'
By John Moffett, Op Ed News:
In a conference call with key supporters Tuesday night, President Obama urged Democratic activists to stay engaged in the coming budget negotiations concerning the so-called "fiscal cliff" but also telegraphed plainly his intent to give away much in his showdown with Republican lawmakers
As the Huffington Post, who listened in on the call,reports:
The president, speaking from a White House phone, cautioned listeners to expect disappointments during his second term. As he has in the past, Obama warned that he was prepared to swallow some bitter pills during the negotiations, including some that would agitate the base.

"As we move forward there are going to be new wrinkles and new frustrations, we can't predict them yet," he said. "We are going to have some triumphs and some successes, but there are going to be some tough days, starting with some of these negotiations around the fiscal cliff that you probably read about."
Obama To Demand $1.6 Trillion In Tax Hikes Over Ten Years, Double Previously Expected
President Obama Needs To Take A Class On Negotiating
Fiscal Cliff: Labor market will lose 400,000 jobs in 2013 if UI extensions expire
The Economic Policy Institute released a new policy brief today that asserts the following: should the unemployment insurance extensions expire, the U.S. labour market would lose 400k jobs next year. It should be noted that the EPI is a left-leaning institute, but the information that they provide is usually spot on.
SNIP
Federally funded extended unemployment insur-
ance (UI) benefits are set to expire at the end of
this year. These benefits serve two very useful
public purposes. Most obviously, they provide a lifeline to
the long-term unemployed and their families during the
deepest and longest economic downturn since the 1930s.1
Less understood but equally crucial, the UI benefit exten-
sions boost spending in the economy and thereby create
jobs. We find that continuing the extensions through
2013 would generate spending that would support
400,000 jobs. If this program is discontinued, the eco-
nomy will lose these jobs.
Recession probabilities
from MyBudget360.com:
For the 50 million Americans in poverty the probability of a recession is 100 percent. Growing economic divide for working class.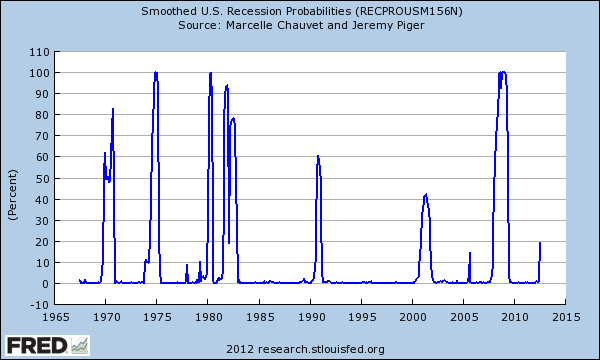 The probabilities of the US slipping into another official recession are growing.  Don't tell this to the 50 million people that are reportedly at the poverty level according to a new US Census report.  This trend isn't something new and it certainly is not going to be resolved overnight.  We have nearly 47 million Americans receiving food stamps so the probability of slipping into another recession should not come as a shock.  The fiscal cliff is not a surprise.  We've known that unsustainable debt growth would ultimately lead to a day of reckoning.  There are now rumors that a patch work for one year is going to be applied to kick the can down deeper into the future.  Look at how well this approach is working in Europe.  The core problem of this debt crisis has yet to be resolved.  Let us examine the recession probability further.
Census: U.S. Poverty Rate Spikes, Nearly 50 Million Americans Affected
Morgan Stanley just published its November read on its proprietary Business Conditions Index, and it dropped 6 points to 35%. This follows last month's stunning 14 point plunge.
"Rising fiscal policy uncertainty is having an increasingly negative impact on business activity as the fiscal cliff looms, write the economists led by Vincent Reinhart. "After the status quo election results, the ideological divide that blew up the "Grand Bargain" in 2011 still exists. Risks are significant that a fiscal cliff deal won't be reached by January 1, potentially a major blow to an economy that appears to be moving into year end with little momentum."
 Cliff or no, demographic depression will continue
CLICK ON CHART TO ENLARGE
Unless one lives in a cave, most everyone knows Real Estate had a good deal to do with the economic and stock market weakness in 2007 & 2008.  The DJ Home Construction index was a great "leading indicator" for the economy as it started turning lower back in 2005.
From 2008 to present, the Home Construction Index and IYR have reflected a ton of relative strength as they have gained over twice what the 500 index has off the 2009 lows.
Of late both of these Real Estate based tools above, hit a key Fibonacci resistance level while creating bearish rising wedges.  At (A) in the above chart, both are breaking below support.  For the first time in a long time, both of these reflected relative weakness yesterday, losing almost twice what the broad market, even though the Dow was down almost 200 points.  One day does not make a trend, yet this weakness should be respected a ton!
The FHA Is Blowing Up: Bad News For The Housing Market
by Mike Krieger of Liberty Blitzkrieg blog,
A very important article came out from the Wall Street Journal yesterday titled "FHA Nears Need for Taxpayer Funds," and it outlines the serious financial problems facing the Federal Housing Administration.  For those that are unaware or need a refresher, the FHA has been the key element to the phony "housing recovery" the government has been trying to create.  In the wake of the collapse of 2008, Fannie Mae and Freddie Mac blew up and what was left to pick up the pieces was the FHA.  No private player would issue loans with down payments of 3%, but this was no problem for the FHA!
Interestingly enough, a lot of the subprime borrowers that blew up the housing market the last time became the primary customers of the FHA.  Let's see, 3% down and subprime borrowers…what could possibly go wrong?!  From the WSJ:
The Federal Housing Administration is expected to report this week it could exhaust its reserves because of rising mortgage delinquencies, according to people familiar with the agency's finances, a development that could result in the agency needing to draw on taxpayer funding for the first time in its 78-year history.

 

Together with Fannie and Freddie, federal agencies are backing nearly nine in 10 new mortgages.

 

The FHA accounted for one third of loans used to purchase homes last year among owner occupants.

 

Though the agency guarantees fewer mortgages than either Fannie or Freddie, it now has more seriously delinquent loans than either of the mortgage-finance giants. Overall, the FHA insured nearly 739,000 loans that were 90 days or more past due or in foreclosure at the end of September, an increase of more than 100,000 loans from a year ago. That represents about 9.6% of its $1.08 trillion in mortgages guaranteed.
Bernanke Says The US Housing Recovery Faces Significant Obstacles In A New Speech
Banks told by Fed to test for 12% unemployment
Surprise! Jobless Claims Up 78,000 Week After Election; PA, OH Worst Hit
from breitbart:
The Department of Labor has announced that new jobless claims rose by a staggering 78,000 in the first week after the election, reaching a seasonally-adjusted total of 439,000. Over the past year, and in the weeks leading up to the election, jobless claims were said to be declining, dipping as low as 339,000, with the media proclaiming that they had reached the "lowest level in more than four years." Now, suddenly, the news seems far less rosy.
…
Some of the new claims, especially in New Jersey, were due to Hurricane Sandy–but these were offset by a decline in claims filed in New York. The highest numbers of new filings came from Pennsylvania and Ohio, where there were thousands of layoffs in the construction, manufacturing, and automobile industries. 
THE WORLD IS HEADING TO A DOUBLE-DIP: JOBLESS, INFLATION, POVERTY, RECESSION… NIGEL FARAGE THINKS IT'S REVOLUTION TIME
Denny's to charge 5% 'Obamacare surcharge' and cut employee hours to deal with cost of legislation
by James Nye, Mail Online:
President Obama's election victory ensured his Affordable Care Act would remain the centerpiece of his first term in power – but that has left some business owners baulking at the extra cost Obamcare will bring.
Florida based restaurant boss John Metz, who runs approximately 40 Denny's and owns the Hurricane Grill & Wings franchise has decided to offset that by adding a five percent surcharge to customers' bills and will reduce his employees' hours.
With Obamacare due to be fully implemented in January 2014, Metz has justified his move by claiming it is 'the only alternative. I've got to pass on the cost to the customer.'