Something Big Going Down In Zimbabwe Right Now!
Video of tanks blocking road to the presidential barracks.
#Zimbabwe Harare military armoured vehicles block road to presidential guard barracks Video @ali_naka pic.twitter.com/CGYwsV8Dkt

— Evelyn Tremble (@DrumChronicles) November 14, 2017
Seems a military coup is going down in #Zimbabwe right now. Stay safe dear neighbours, the darkest hour is always the one before a new dawn, bringing hope and prosperity once again.

— Michael Boscombe (@mboscombe) November 14, 2017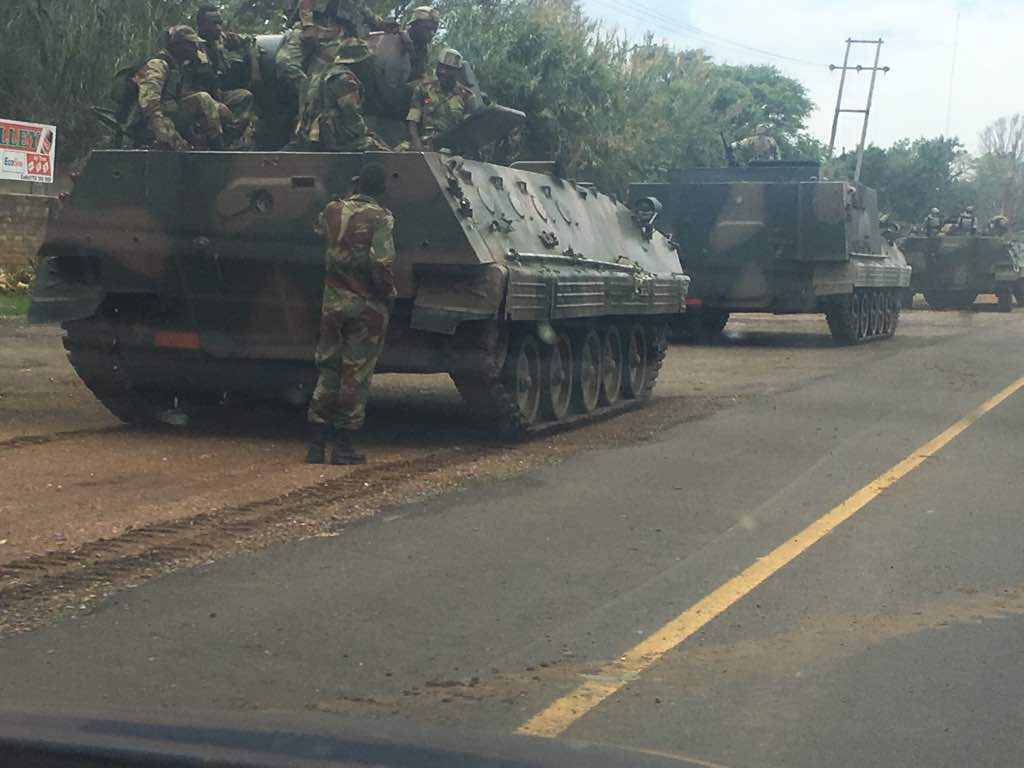 Zw army reportedly making strides to capital Harare. Its getting lit #MyNewZimbabwe #ZDF #Zimbabwe pic.twitter.com/0NzNpIeoUk

— Man of Always (@Simba_Mutamba) November 14, 2017
Private Intel group reporting escalating tensions that could become crisis in #Zimbabwe. pic.twitter.com/zyZBBCnzMC

— Jonathan Franks (@jonfranks) November 14, 2017
https://twitter.com/hashtag/Zimbabwe?src=hash
http://www.newsnow.co.uk/h/World%20News/Africa/Zimbabwe
Zimbabwe: Army tanks seen heading towards capital Harare
Tanks have been spotted heading towards Zimbabwe's capital Harare. Eyewitnesses said military vehicles were also blocking major roads outside the city.
Local media also reported that heavily armed military personnel had sealed off state TV broadcaster ZBC.
It comes amid rising tensions between the east African nation's military and the country's ruling Zanu-PF party, headed by President Robert Mugabe – the only leader Zimbabwe has known in 37 years of independence.
The president plunged the country into political crisis by sacking his vice president Emerson Mnangagwa, 75, last week. The long-serving veteran of Zimbabwe's 1970s liberation wars, had been viewed as a likely successor to Mr Mugabe before the president fired him.
http://www.independent.co.uk/news/world/africa/zimbabwe-crisis-army-tanks-robert-mugabe-zanu-pf-harare-capital-military-politics-president-chiwenga-a8054141.html
https://www.trendsmap.com/local/zw/harare
AC