Something is very, very wrong: Global governments are boosting spending at the FASTEST rate … YET… World Bank downgrades its forecast for 2016 global economy
Global Governments Are Boosting Spending at the Fastest Rate since 2009
Fiscal stimulus has arrived.
The world's governments are stepping up to the plate to relieve monetary policymakers of some of the burden of supporting persistently slow-growth economies, according to HSBC Holdings PLC.
Around the world, government spending is poised to grow by more in 2016 than any year since 2009, when fiscal authorities embarked upon a coordinated plan of boosting expenditures to deal with the damage wrought by the financial crisis.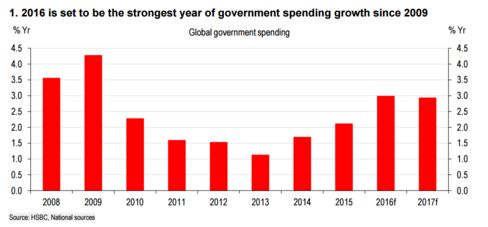 "Overall we now have a fiscal stimulus in the global economy," writes Global Chief Economist Janet Henry. "It is not large, but it is getting bigger and, for the first time since 2010, we estimate that global government spending will grow more quickly than global GDP."
This news is music to the ears of international organizations such as the International Monetary Fund as well as financial heavyweights like former Fed Chair Ben Bernankeand BlackRock's Larry Fink, who have long argued that governments should play a larger role in driving growth.
Article Continues Below
http://www.bloomberg.com/news/articles/2016-06-06/global-governments-are-boosting-spending-at-the-fastest-rate-since-2009
World Bank downgrades its forecast for 2016 global economy
The World Bank Is Reducing Its Forecast For The Global Economy This Year – AGAIN.
The World Bank is reducing its forecast for the global economy this year — again.
The aid agency predicted Tuesday that the world economy will expand 2.4 percent this year, down from the 2.9 percent it expected in January and unchanged from a tepid 2015.
"The global economy is fragile," said World Bank economist Ayhan Kose, who helped produce the forecast. "Growth is weak."
In the years since the world began recovering from the 2008 financial crisis, the World Bank and the International Monetary Fund have repeatedly proved too optimistic about the world economy and have had to downgrade their previous forecasts.
The World Bank's latest 2016 forecast is more pessimistic than the IMF's outlook for 3.2 percent global growth this year, a projection made in April.
http://www.usnews.com/news/business/articles/2016-06-08/world-bank-downgrades-its-forecast-for-2016-global-economy
The Land Below Zero: Where Negative Interest Rates Are Normal
In Copenhagen, bicycles take undisputed priority over cars and even pedestrians. A sizzling restaurant scene has made foodie fetishes of moss, live ants, and …
http://www.bloomberg.com/news/articles/2016-06-06/denmark-land-below-zero-where-negative-interest-rates-are-normal
ECB Bought 85.2 Billion Euros of Debt in May Under Expanded QE
Holdings of public and private-sector debt climbed to 1 trillion euros as of May 31, data on the ECB's website showed on Monday. The pace of buying matched ..
http://www.bloomberg.com/news/articles/2016-06-06/ecb-bought-85-2-billion-euros-of-debt-in-may-under-expanded-qe
180 views