STOCK MARKET CRASH IMMINENT: A Collective Collapse In Global Demand Is What Happened During The Great Depression. It's Happening Again Today!!!
RISK IS IN THE HOUSE
LIBOR's getting high
As central bankers try
To calm the markets down
But risk is back in town
Risk is in the house Yo!
Risk is in the house
Credit lines are drawn
Where's the money gone
Spreads are growing fast
Markets sucking gas
Risk is in the house Yo!
Risk is in the house
Triple A means squat
Commercial paper rots
Monolines are down
'Cause risk is back in town
Risk is in the house Yo!
Risk is in the house
Risk is going 'round
Can you hear the sound
As tranches hit the ground
'Cause risk is back in town
Despite today's high stock markets' valuations, investors are withdrawing money from stock markets in increasing numbers and are instead buying bonds. These are today's bond lemmings, bond buyers bound together in the deluded belief that bonds are safe. They are not.
On October 11, 2012, a Wall Street Journal blogger wrote: …investors pulled $10.6 billion out of stock funds in the week ended Oct. … That was the biggest weekly outflow of the year and the largest since August 2011…
.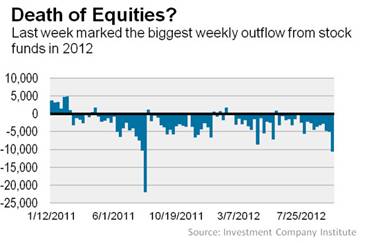 The total outflow from US stock market funds
for 2012 now exceeds $100 billion
…
As global risks increase, investor appetite for bonds in both Asia and the West are growing as the search for safety is now paramount; but investors are mistaken that bonds are safe. They're not
DEFLATION: THE DAISY CHAIN OF DEBT AND DEFAULTS
Collective slowing global demand is a sign that deflation has now metastasized. Japan is contracting, Europe is contracting, China is slowing and the US is desperately hoping it can print enough money to escape deflation's growing grasp. It can't.
A collective collapse in global demand is what happened during the Great Depression. It's happening again today. The trillions of dollars governments printed and spent since 2008 only delayed the inevitable but did not prevent it; and, now in 2012, the inevitable has once again resumed its deflationary descent.
Most stocks and bonds will not survive the coming rendering. Stocks thrive on growth and the only possible growth now is debt; and bonds are IOUs, debts and obligations contracted in better times when the odds of repayment were more favorable.  Today, the odds are less favorable. Tomorrow, they will be worse.
Once underway, deflation's momentum is impossible to reverse. Nothing central bankers did during the Great Depression revived private demand; and the trillions of dollars being printed today to hopefully do so will be no more successful than were efforts in the 1930s.
…
Money Printing is the Only Thing Keeping the System Afloat
The US economy is overloaded with debt to the point that it no longer reacts positively to monetary stimulus, and successive government interventions have led misallocation of economic resources to accumulate towards crisis levels. The private sector is now teetering on the edge of an abyss overloaded by both debt and government intervention.
…
…
The chart below was presented recently by the Frederick Smith, the President and CEO
of FedEx Corp., which shows the clearly negative trends in the year-over-year exports including the U.S.
These very negative trends are important to understand because it is the source of revenue for businesses worldwide. As consumer demand slows it reduces the need for production ultimately reducing profitability. Furthermore, this decline in production and consumption leads to higher unemployment, lower incomes and ultimately an economic recession. Domestically, exports are more crucially important than ever as they now comprise more than 13% of GDP and 40% of corporate profits.
…
** DAVID ROSENBERG: The Last Two Times Export Orders Collapsed Like This, We Were In A Recession
Global Distress 3.0 Looms as Emerging Markets Falter
Article Continues Below
The global economy is facing its third major brake on expansion in five years as emerging markets slow from China to Brazil, provoking debate about how much policy makers should respond.
Three years after industrializing nations led the world out of the U.S. mortgage meltdown-induced recession, the reliability of the power source is waning as Europe's debt crisis persists. The International Monetary Fund sees them growing an average 5.8 percent in the half-decade through 2016, almost two percentage points less than the five years before the 2009 slump.
…
China Impact
If unchecked, the fading could deal a blow to already-weak rich nations, warn economists. Slackening Chinese demand led Alcoa Inc. (AA), the largest American aluminum producer, to last week cut its forecast for worldwide consumption of the metal by 1 percentage point. The U.S. reported a widening trade gap for August last week as diminished global demand caused exports to fall to the lowest level since February.
China, the world's second-largest economy, alone accounts for 65 percent of seaborne iron ore demand and 40 percent of copper consumption, leaving producers such as Australia, Brazil and Chile vulnerable, Gustavo Reis, a Bank of America Merrill Lynch economist in New York, said in an Oct. 5 report.
A 1 percentage point drop in China's growth rate often leads to a 1.5 point decline in commodity prices over a couple of quarters, threatening resource-rich nations such as Canada, while about 80 percent of its imported inputs come from Japan, South Korea and Taiwan, Reis said. Germany may also suffer from weaker demand for its capital goods.
#1 Bank of Israel Governor Stanley Fischer says that the global economy is "awfully close" to recession.#2 It was announced last week that the unemployment rate in Greece has reached an all-time high of 25.1 percent. Unemployment among those 24 years old or younger is now more than 54 percent. Back in April 2010, the unemployment rate in Greece was only sitting at 11.8 percent.#3 The IMF is warning that Greek debt may have to be "restructured" yet again.
#4 Swedish Finance Minister Anders Borg says that it is "probable" that Greece will leave the euro, and that it might happen within the next six months.
#5 An angry crowd of approximately 40,000 angry Greeks recently descended on Athens to protest a visit by German Chancellor Angela Merkel…
From high-school students to pensioners, tens of thousands of Greek demonstrators swarmed into Athens yesterday to show the visiting German Chancellor, Angela Merkel, their indignation at their country's continued austerity measures.
Flouting the government's ban on protests, an estimated 40,000 people – many carrying posters depicting Ms Merkel as a Nazi – descended on Syntagma Square near the parliament building. Masked youths pelted riot police with rocks as the officers responded with tear gas.
The authorities had deployed 7,000 police, water cannon and a helicopter. Snipers were placed on rooftops to ensure the German leader's safety.
#6 The debt crisis is Argentina is becoming increasingly troublesome.
#7 The government debt to GDP ratio in Italy is expected to hit 126 percent this year. In Greece, it is expected to hit198 percent. In Japan, it is expected to hit a whopping 237 percent.
#8 Standard & Poor's has slashed the credit rating on Spanish government debt to BBB-, which is just one level above junk status.
#9 Back in the year 2000, the ratio of total debt to GDP in Spain was 192 percent. By 2011, it had reached 363 percent.
#10 Record amounts of money are being pulled out of Spanish banks, and many large Spanish banks are rapidly heading toward insolvency.
#11 Manufacturing activity in Spain has contracted for 17 months in a row.
#12 It is being projected that home prices in Spain will fall by another 15 percent by the end of 2013.
#13 The unemployment rate in France is now above 10 percent, and it has risen for 16 months in a row.
#14 There are signs that Switzerland may be preparing for "major civil unrest" throughout Europe.
#15 The former top economist at the European Central Bank says that the ECB has fallen into a state of "panic" as it desperately tries to solve the European debt crisis.
#16 According to a recent IMF report, European banks may need to sell off 4.5 trillion dollars in assets over the next 14 months in order to meet strict new capital requirements.
#17 In August, U.S. exports dropped to the lowest level that we have seen since last February.
#18 Economics Professor Barry Eichengreen is very concerned about what is coming next for stocks in the United States…
"I'm worried that stock markets in the United States in particular have gotten ahead of economic growth"
#19 During the week ending October 3rd, investors pulled more than 10 billion dollars out of U.S. mutual funds. Overall, a total of more than 100 billion dollars has been pulled out of U.S. mutual funds so far this year.
#20 As I wrote about the other day, the IMF is warning that there is an "alarmingly high" risk of a deeper global economic slowdown.
#21 When shipping companies start laying off workers, that is one of the best signs that economic activity is slowing down. That is why it was so troubling when it was announced that FedEx is planning to get rid of "several thousand" workers over the coming months. According to AFP, "its business is being hit by the global economic slowdown".
45 views