Survey: 17% of recent grad saying they are financially dependant on their parents and almost one in four say they are in debt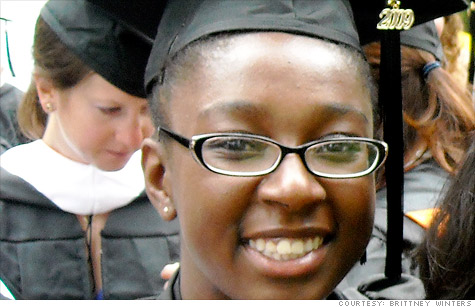 Brittney Winters graduated from Princeton, but couldn't find a teaching job. She's taken various jobs — including a stint at a video store — to make ends meet.
O'Halloran's experience is not unique. Last year, the unemployment rate for college graduates age 24 and younger rose to 9.4%, the highest since the Labor Department began keeping records in 1985.
One reason is because recent hires with limited experience have the toughest time competing in a job market flooded with experienced candidates.
"We know that young people coming out of college have the least experience," said Kathy Kane, senior vice president of talent management at Adecco. "And these entry-level jobs can be the easiest for companies to reduce."
But long stretches of unemployment are only part of the problem young job seekers face.
Adecco also found that 18% of recent grads have been forced to turn to full-time jobs outside their field of study, often jobs for which a college degree is not required.
Many others are underemployed, or working part-time or temporary jobs and internships.
And the lack of steady income can also delay the start of their lives as independent adults. About a third of recent graduates are still living with their parents, Adecco found, with 17% saying they are financially dependant on their parents. Almost one in four say they are in debt. – CNN Money