Taxes Going Up, Recovery Hitting A Pothole, Credit Downgrade Imminent, NOW WE ARE HEADING TOWARD TO ANOTHER GREAT BOND MARKET MASSACRE And Investors Could Suffer More Than $1 Trillion In Losses, This Time Stocks Could Follow.
After three decades of declines, interest rates are near rock bottom, and many Wall Street experts think the bond bubble may be about to burst.
In fact, nearly 40% of the 32 investment strategists and money managers surveyed by CNNMoney think that interest rates will begin to rise in 2013, and another 30% say the shift will begin in 2014.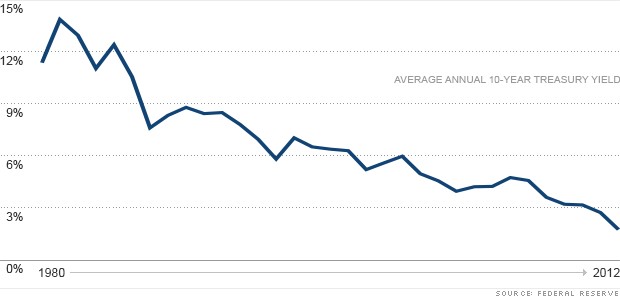 The 10-year Treasury yield has fallen from nearly 20% in the early 1980s to less than 2%. Click the chart for more bond market data.
…
…With France and the ESM bailout fund recently losing their AAA status, there is already a scramble for high grade collateral in the system. The US, despite losing its AAA rated status is still consider high grade due to its having never defaulted on its debt. With that in mind, the Fed decision to take US Treasuries at a time when more and more countries are losing their AAA rated status means that even less high grade collateral will be in the system.
Indeed, as I've noted before, because so much of the US debt market is already held by government controlled entities, the Treasuries shortage is even worse than the below article indicates.
Clearinghouses, run by firms such as Chicago-based CME Group (CME) and London-based LCH.Clearnet Group, make traders provide collateral, including government bonds, that can be seized and easily converted into cash to cover defaults. Traders may need from $2 trillion to $4 trillion in extra collateral to meet the new requirements, according to Timothy Keaney, chief executive officer of BNY Mellon Asset Servicing.
The trouble is finding all that high-grade debt. The U.S. had $10.8 trillion in Treasuries outstanding at the end of August. Other countries, including Japan and European nations rated AAA or AA, had about $24 trillion of debt in the second quarter of 2011, according to an April report by the International Monetary Fund. Those government securities are already in heavy demand from central banks and investors.
The solution: At least seven banks plan to let customers swap lower-rated securities that don't meet standards, in return for a loan of Treasuries or similar holdings that do qualify, a process dubbed "collateral transformation." The maneuver allows investors who don't have assetsthat meet a clearinghouse's standards to pledge corporate bonds or mortgage-linked securities to a bank in exchange for a loan of Treasuries. The investor then posts the Treasuries—the transformed collateral—to the clearinghouse. The bank earns fees plus interest, and the investor is obliged at some point to return the Treasuries. In effect, the collateral is being rented…
ART CASHIN: The End Of The Bond Bull Market Will Be Signaled By A Stampede
Cashin's got his eye on mortgage applications.
The Bond Market Sell-Off Could Get Serious
With my indicators on a sell signal for bonds since August 16, I have been warning about bonds being overbought and in danger of rolling over into a serious correction for several months. And indeed, the 20-year U.S. Treasury bond has already lost 11% of its value just since its late July peak.
Yet Treasury bonds are still significantly over-extended above the prices that prevailed most of the time before, during, and after the 2008 financial crisis, except for two previous brief spike-ups, in 2008, and 2010 (and those ended with substantial plunges back to normal).
And now another problem for bonds has popped up.
As we all know, the Treasury Department, and both the Bush and Obama administrations battled the awful economic collapse of 2008 from the fiscal side, with greatly increased government spending, and massive stimulus and bail-out programs.
From the monetary side, the Federal Reserve used its normal stimulus tool of cutting interest rates, and when even drastic cuts had no impact, it launched what it admitted was an untried experiment, so-called quantitative easing, in an effort to do its part in helping to lift the economy out of the worst recession in 80 years.
…
Goldman Sachs strategists have issued a big warning to clients hiding out in bond funds: You're about to lose your shirt.
The reason: interest rates began rising this week, and if they return to the historical average yield of 3 percent, prices for long-term bonds will plummet. (By their very nature, fixed income prices must fall if rates rise.)
"A reversion of risk premiums to historical averages of 6% nominal rates (3% real rates and 3% inflation) would suggest estimated losses in portfolios with bond durations of 5 years of 25% or more," equity strategist Robert D. Boroujerdi said in a note.
The yield on the 10-year Treasury hit almost 2 percent this week–an 8-month high–after minutes from the Federal Reserve's last meeting showed several members believe the central bank's quantitative easing should end this year. (Read More: End of Stimulus? What's Behind the Fed's Surprise Statement)
That's one giant bond buyer leaving the market.
…
(FORTUNE Magazine) – WASN'T THIS supposed to be the year Alan Greenspan got to triumphantly parade down Wall Street to the cheers of bondholders big and small? In many ways the circumstances seemed right. In January 1994, the 34th month of economic expansion, bond yields were historically low and inflation seemed negligible: Wages were going nowhere, and companies dared not raise prices. But within seven short months of that promising start, something fairly unusual happened: 1994 became the year of the worst bond market loss in history. Since the Federal Reserve began nudging short-term interest rates higher in early February, the bond market has inflicted heavy damage on financial companies, hedge funds, and bond mutual funds. Fortune estimates that the rise in 30-year Treasury rates from 6.2% at the start of the year to 7.75% in mid- September has knocked more than $600 billion off the value of U.S. bonds (some of the losers are shown below). And with long-term rates rising in every major country, the worldwide decline in bond values this year figures to be on the order of $1.5 trillion. That's assuming that rates rise no further from here, hardly a certainty. Part of the reason for such staggering losses is the sheer size of today's bond market. As corporations and financial institutions "securitize" an increasingly larger share of the American financial pie, everything from home mortgages to credit card receivables and aircraft leases winds up as bondlike securities available to investors and speculators alike….
Does it matter? After all, there were no major economic consequences of the 1994 sell off. The U.S. economy did not relapse. Indeed, it swung into the large Clinton-era boom that culminated with the tech and telecom bubble. If anything, it might have made the Federal Reserve reluctant to be too aggressive with tightening monetary policy, helping to foster the moral hazard that encouraged the tech bubble.
Yet it could if yields continue to push up, sending 10-year Treasuries to, say, within sight of 5% from the current 3.4%. In 1994, the economy was relatively well positioned to weather a yield spike. Debt levels were considerably lower than now and most of the Savings & Loan crisis had been resolved. You'd be hard put to claim the banking sector's balance sheet is now back to health. And households are enormously over-indebted, not to mention the fact that the U.S. government seems to have lost control of its own finances.
Article Continues Below
A repeat of 1994 could prove the disaster now that it wasn't then.
Peter Schiff: Market-Crushing Treasury Collapse To Hit Around 2013
Peter Schiff, the divisive investor and commentator that predicted the subprime/real-estate bubble, is forecasting a U.S. dollar and bond crisis over the next couple of years.  Schiff blames intervened bond markets, where rates are artificially and excessively low, and expects the coming crisis to blow the 2008-9 financial crisis out of the water.
There is little doubt that the Federal Reserve, with Chairman Ben Bernanke at the helm, is holding markets by the hand.  Bernanke, himself a divisive figure, has done all he can to push interest rates lower, using quantitative easing and Operation Twist once nominal rates had hit the zero-range.  While many believe ultra-loose monetary policy is dangerous, Schiff thinks it will lead to a catastrophic correction.
"The more you delay it, the bigger it will be," Schiff tells Forbes in a phone interview Tuesday, "so we need to raise interest rates during the recession to confront the inefficiencies."  Schiff, who runs Euro Pacific Capital and is seen by many as permanently bearish, argues that government-intervened bond markets are leading to massive distortions in capital allocation that have only been exacerbated as the Fed reacted to the last couple of recessions.
…
The controversial investor and commentator expects a massive crash over the next two to three years as a bond market bubble, coupled with the U.S. dollar, collapses under the weight of excessive debt.  Schiff, like PIMCO's Bill Gross, doesn't believe in the current deleveraging cycle.  While households have reduced their leverage, government debt has ballooned on the back of stimulus programs, but, argued Schiff, the government's debt is the people's debt, thus overall leverage has actually increased.
In CNBC interview Wednesday, Schiff called Bernanke "public enemy number one" and warned that banks would crash if the bond market collapses. While most major banks, including the likes of JPMorgan, Wells Fargo, and evenBank of America, passed the Fed's strenuous stress tests, which stipulated a massive decline in equity and real estate prices, Schiff still believes they're in trouble.  "The Fed didn't ask the banks to stress test a big drop in the bond market because that's what coming, and the banks would fail that," he said.

…
Fed says it's running out of bullets, signals that bond purchases may stop
For the first time since the financial crisis started five years ago, the Federal Reserve has at last made its first signal that its extraordinary loose monetary policy will start to get tougher.
To be sure, the change isn't gigantic. There's no sense that interest rates will increase from the near zero levels that have lasted for over four years.
And the Fed only last month initiated a new bond-buying program, to top off a plan to add more mortgage-backed securities that had only been around since September.
But, the minutes show, the central bank is starting to say, enough is enough. Of the crowd that supported bond buys, a few say they should continue until the end of the year, and several said it could stop, or slow, well before then.Read more on the Fed minutes.
Ben Bernanke Is Facing A Legacy Problem
…I do believe this development is connected to the "legacy" issue. Bernanke's term at the Fed will set many historical precedents. To a significant extent, history will judge Bernanke on what he did while chairman of the Fed. But the books will also look at what happened after he left.
I believe that Bernanke would very much like to leave his successor with a Fed that had policy choices. As of today there are no options left.  Just more useless QE. I doubt that Bernanke wants to exit with the Fed's foot planted firmly on the gas pedal. The next guy does deserve a cleaner plate than now exists.
Is the Legacy factor influencing Bernanke? I think it has some sway in his thinking. Consider what Greenspan did before he left. After years of soft monetary policy he ratcheted up the Federal Funds rate 17 times in 22 months. He took the funds rate from 1% all the way up to 6%. Part of that rapid increase was driven to get monetary policy "neutral", so that Bernanke could do as he wished. Not long after Bernanke took over, he took the funds rate down to zero….
To get a feel for what a bond market crash looks like and how it inflicts pain upon bond investors, it's useful to examine the fall-out from 1994. The bond market crash of 2009 will occur for reasons that differ somewhat from the events of 1994, but the consequences will be similar.
Just as a stock market crash tends to hurt certain sectors and certain individual stocks more than others, so, too, does a bond market crash inflict varying amounts of pain on different bond investors. A Treasury Bill investor, where maturities never exceed one year, will not endure the losses incurred by a Treasury Note or a Treasury bond investor, with maturities of ten to thirty years, when interest rates rise. And the most acute pain will be felt by Treasury STRIP investors, where the lack of coupon interest serves to make these instruments a highly leveraged bet on interest rates. When rates go down like they did last year, Treasury STRIP investors can make a lot of money.
But when rates turn back up, STRIP's investors get killed….
Moody's says 'fiscal cliff' deal doesn't end credit downgrade risk
JPMORGAN: The US Recovery Is About To Hit A Pothole
JPMorgan: – Regionally the US and Emerging Asia are leading the move up in our global surveys. In the US, early December labor market reports and consumer indicators reinforce this message. Unfortunately, the economy is about to hit a pothole as the household sector absorbs a large front-loaded drag resulting from the fiscal cliff agreement. The increase in payroll taxes and higher marginal rates on high-income households is set to depress 1H13 income growth by roughly 2%-pts at an annualized pace. 
Tax Code May Be the Most Progressive Since 1979
WASHINGTON — With 2013 bringing tax increases on the incomes of a small sliver of the richest Americans, the country's top earners now face a heavier tax burden than at any time since Jimmy Carter was president.
The last-minute deal struck by the departing 112th Congress raised taxes on a handful of the highest-earning Americans, with about 99.3 percent of households experiencing no change in their income taxes. But the Tax Policy Center estimates that the average family in the top 1 percent will pay a federal tax rate of more than 36 percent this year, up from 28 percent in 2008. That is the highest rate since 1979, at least.
2013 Predictions: S&P 500 Plunges, Gold Soars
9 views