The Collapse Is Getting Even Worse: Goldman Slashes Q4 GDP Forecast To Just 1%, US Households Breached Their Debt Ceiling, Citigroup To Cut 11.000 Jobs As ADP JOBS REPORT FALLS TO 118K, And Britain's Biggest Retailer Is Ready To Abandon Its US Expansion
Goldman Slashes Q4 GDP Forecast To Just 1%
from businessinsider:
The latest data has prompted Goldman to cut its Q4 GDP forecast. It now sees just 1% growth.
The key points from Goldman's Kris Dawsey:
We expect that the positive boost to GDP growth from inventory investment seen last quarter will not persist into Q4.
Weaker inventory series in the monthly business sentiment surveys point to slowing inventory accumulation, and our quarterly models suggest some payback from Q3's inventory build.
Farm inventories will likely decline again in Q4 due to continued effects from the Midwest drought earlier this year.
As a result of our analysis, we have cut our tracking estimate of Q4 real GDP growth from 1.3% to 1.0%.
US households already went off their fiscal cliff and breached their debt ceiling
US quickly approaching another debt ceiling limit aligning with the fiscal cliff
from MyBudget360.com: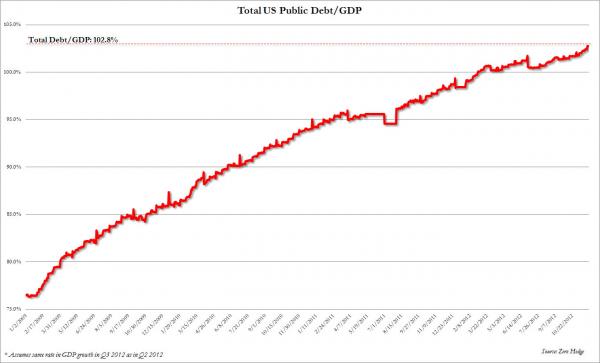 Few people realize that the debt ceiling is aligning right on track with the fiscal cliff.  Total public outstanding debt is now at $16.369 trillion and is only $63 billion away from breaching the limit.  Not a coincidence that the fiscal cliff is also on the horizon.  In essence, we are addicted to debt.  However US households have been on a multi-year long process of deleveraging yet this is not being asked from banks or governmental institutions.  Of course we knew this was coming.  Anyone that was honestly objective realized that we were on an unsustainable path.  Yet the name of the game is now about kicking the can furiously down the road so it falls beyond or line of vision.  Then we act surprised when we arrive at the can and it has only gotten heavier with debt.  So as we are T-minus a few days from the fiscal cliff, let us examine the debt ceiling.
BOOM: CITI TO CUT OVER 11,000 JOBS, TAKE PRETAX CHARGE $1B IN 4Q
from Zerohedge:
Big news ahead of this Friday's NFP report:
CITI TO CUT OVER 11,000 JOBS, TAKE PRETAX CHARGE $1B IN 4Q
Article Continues Below
"Sandy's fault?" or better yet, "Vikram's fault." Or maybe the economy is collapsing despite all the propaganda one is spoonfed. Considering the recent termination of over 50,000 by UBS we think we know the answer. And while C stock may jump on the news, the end result is that New York and the US have both just lost 11,000 less key taxpayers most of whom are almost certainly in the $250,000+ bucket. That said we can't wait for the BLS to take this data as somehow beneficial for the unemployment rate.
Britain's Biggest Retailer Is Ready To Abandon Its US Expansion
from businessinsider:
Britain's biggest retailer, supermarket Tesco, looked on course to withdraw from its struggling US business Fresh & Easy as chief executive Philip Clarke on Wednesday said its presence would likely end.
"It's likely, but not certain, that our presence in America will come to an end," Clarke told reporters, as Tesco said it was launching a strategic review of Fresh & Easy, which may lead to a sale of the business.
SLIGHT MISS: ADP JOBS REPORT FALLS TO 118K
from businessinsider:
Slight miss…
118K is just below expectations of 125K, and below last month's 158K.This is not a huge number for markets, and the deviation from expectations isn't that big, so it's unlikely to matter much.
The full report is here, and there's a bunch of fancy charts.
This chart shows the employment breakdown by industry.
The negative direction of manufacturing jobs is notable.
Yamarone – The Collapse Is Getting Even Worse 
from KWN:
King World News released an incredibly sobering interview over the weekend with Egon von Greyerz, which detailed the reality of what is really happening around the globe in terms of the economy.  KWN has received tremendous interest in this piece and wanted to follow it up today with a warning from one of the top economists in the world.
The piece below was courtesy of our friend 50-year veteran Art Cashin, and it has comments from Richard Yamarone which are extremely troubling.  This should be of concern to all KWN readers globally as it is more proof that the US and global economy is in a great deal of trouble:
He Laughs And Smiles Like Santa But Sounds A Bit Like Scrooge…
1 views