The erosion of purchasing power via inflation – Federal Reserve and the permanent portfolio.
from mybudget360.com:
Inflation has a subtle and quite way of eroding your purchasing power.  The process can unfold slowly and before you know it you suddenly wake up realizing your paycheck no longer stretches so far.  This is happening across the US in many ways.  Those on very tight budgets, especially those now on food stamps are feeling the pinch of higher food costs.  Middle class Americans seeking to send their kids to college realize that it might be difficult to do so without going into deep student debt.  Inflation as measured by the CPI understates the real change in purchasing power because our system is flooded with massive levels of debt.  Access to debt is viewed as a vector in which you can pretend to have money and spend on things you are unable to afford.  Yet debt and wealth are not the same.  Inflation is creeping into the system and people are feeling it.
Change in prices
As household incomes have gone flat over the last year, the cost of many items has actually gone up: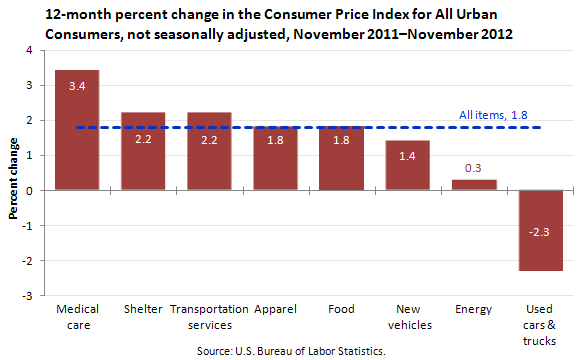 The fastest rising sector is medical care cost.  Do you think this is going to be an issue given the large number of baby boomers now retiring and requiring more medical care?  Do you think this is going to put a strain on those Social Security checks indexed to the CPI?  Of course it is.  Shelter went up by 2.2 percent over the last 12 months largely by the big push in rental prices and because banks are stunting the inventory available on the market.  Again, if incomes are stagnant, all this means is more disposable income is now going to these sectors.