The Monetary Kool-Aid Party Is Over: Central Banks Told To Head For Exit, A Mad Dash For Cash Taking Place All Over The World
The World's Central Banks May Have Just Started A Strike
Four days after Bernanke's guns-blazing press conference, we get another datapoint indicating that the central banks of the world are ready to say "no mas" in the fight against depression.
In a speech given today, Jaime Caruana, general manager of the Bank for International Settlements (which is, as Ryan Avent characterized it, kind of the central bank to the central banks), said the following:
Ours is a call for acting responsibly now to strengthen growth and avoid even costlier adjustment down the road. And it is a call for recognizing that returning to stability and prosperity is a shared responsibility. Monetary policy has done its part. Recovery now calls for a different policy mix – with more emphasis on strengthening economic flexibility and dynamism and stabilizing public finances
The title of Caruana's speech is "Making The Most Of Borrowed Time," and it's filled with warnings about what happens if central banks keep stimulating for too long.
…
So you have the BIS and the Fed both signaling the end is nigh for how much central banks can do at this point. It looks like a central banker strike.
Meanwhile, this past week, we saw the People's Bank of China allow SHIBOR (a measure of intrabank lending similar to LIBOR) to surge, in what was seen as a tool to clamp down on speculation.
Ostensibly the Bank of Japan is just in the beginning of a new era of easing, though even they're internally divided according to reports.
Thanks to political gridlock (especially in the U.S.), central banks have done much of the heavy lifting in the recovery. That seems to be coming to an end.
Hopefully escape velocity has been achieved.
Read more: http://www.businessinsider.com/bis-says-monetary-policy-has-done-its-part-2013-6#ixzz2X5h49KoN
The Odds Of A Market Crash Are Much Higher Than Normal
We now know speculation has been high in the markets.
Global financial markets are now in a very perilous state, and there is a much higher than normal chance of a crash. Bernanke's recent statement revealed just how large a role speculation had played in the prices of nearly everything, and now there is a mad dash for cash taking place all over the world.
Central Banks Told To Head For Exit, Abandon Global Recovery: Financial Times
Article Continues Below
This story breaking a short while ago from the Financial Times is certainly a sign of times to come. What will happen now, will these banksters be arrested and held responsible for financial terrorism or will they run like cockroaches to their underground bunkers while the rest of the world 'fights it out' for the resources left after they've finished their plunder? These cockroaches must be held responsible for their crimes.
Central banks told to head for exit – FT.com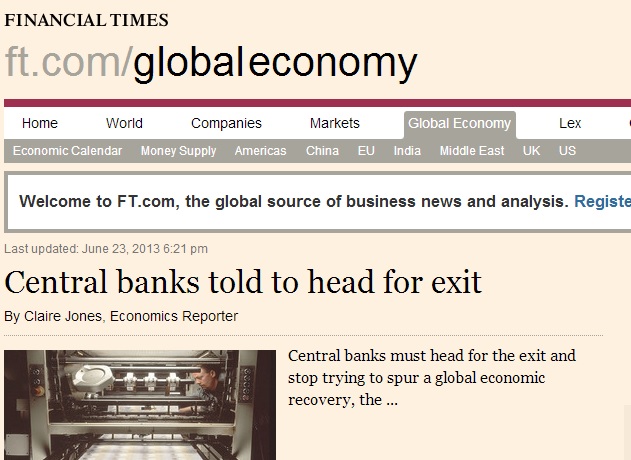 http://beforeitsnews.com/economics-and-politics/2013/06/central-banks-told-to-head-for-exit-abandon-global-recovery-financial-times-2454166.html
The Bank Of International Settlements Warns The Monetary Kool-Aid Party Is Over
When a month ago the Central Banks' Central Bank, aka the Bank of International Settlements (or BIS) in Basel where the MIT central-planning braintrust meets every few months to decide the fate of the world, warned that the Fed-induced collateral shortage is distorting the markets, few paid attention. That the implication behind said warning was that QE can not continue at the current pace, was just as lost. A few short weeks later following the biggest plunge in markets since 2011 in the aftermath of Bernanke's taper tantrum, some are finally willing to listen.
However, they will certainly not like what the BIS just released as a follow up, both in the form of the BIS' 83rd Annual Report, and the speech by Jaime Caruana to commemorate said annual meeting. For the simple reason that it reads like a run of the mill Sunday morning Zero Hedge sermon, which says, almost verbatim, that the days of kicking the can via flawed monetary policy are now over, and that the time for central banks to end the monetary morphine drip has finally come.
The BIS message, as summarized by the FT, is that "central banks must head for the exit and stop trying to spur a global economic recovery… cheap and plentiful central bank money had merely bought time, warning that more bond buying would retard the global economy's return to health by delaying adjustments to governments' and households' balance sheets."
http://www.zerohedge.com/news/2013-06-23/bank-international-settlements-warns-monetary-kool-aid-party-over
Everyone's Nuts About Fed Speeches And Econ Data, And We're Gonna Get A Ton Of Them This Week
8 Fed speeches and at least 10 economic reports.
http://www.businessinsider.com/monday-scouting-report-june-24-2013-2013-6
6 views CF TEST