Things Will End In Chaos: We Are Heading For A Financial Apocalypse, Insiders Now Betting On A Market Decline While Investors Keep Cashing Out
"Are businesses quietly preparing for a financial apocalypse?"
From Dan Steinhart, Casey Research:
U.S. corporations are sitting on more cash than at any point since World War 2.
That's without including banks. I'm only talking about nonfinancial corporations – the ones that sell goods and services and make the economy go.
Those businesses hold $1.4 trillion. In absolute terms, that's the most ever. In relative terms, it's the most since World War II.
As investors, we can infer quite a bit from corporations' inability (or unwillingness) to deploy their cash.
For one, it indicates that business have assumed a very defensive stance.
Cash, of course, is a buffer against uncertainty – the uncertainty that business may slow for any reason. Management wants a healthy cash reserve with which to pay the bills and remain liquid should anything unexpected happen. I think we can all agree that this is prudent, and a good business practice.
But $1.4 trillion? That tells me that businesses are not just a little jittery about the future. They're prepared for an apocalypse…
Insiders overwhelmingly choosing sells over buys
Corporate insiders are — by at least some measures — even more bearish now than they were a month ago.
And that should worry the bulls a lot, since — as I wrote in early September — their behavior then was already as bearish as it had been at the stock market's high in late April. ( Read my Sept. 5 column, "More bad news — this time from insiders" )
To be sure, the stock market didn't decline in September, notwithstanding the insiders' selling.
But, since historically the insiders have been more right than wrong, it seems risky to bet that the market will continue to escape the bearish implication of their behavior.
Consider an index of insider behavior calculated by the Vickers Weekly Insider Report, published by Argus Research, which is based on the ratio of shares sold by insiders to shares bought. Last week, according to the latest issue of the Vickers service, this ratio for NYSE-listed issues stood at 5.13-to-1. The comparable ratio in early September was 5.97-to-1.
Resist the temptation to read much into this nominal improvement. Over the same period, the ratio for Nasdaq-listed issues deteriorated from 2.96-to-1 to 6.17-to-1.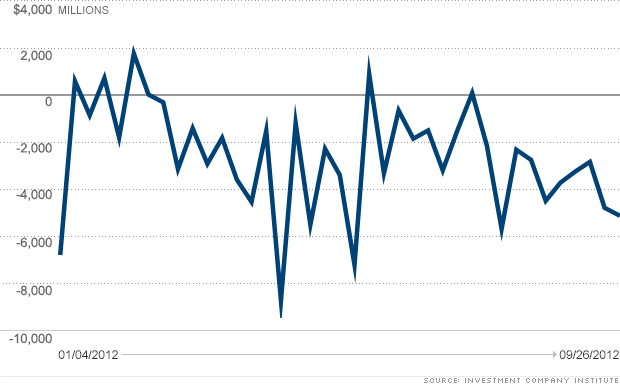 Mutual fund investors pulled $5.1 billion out of U.S. stock mutual funds for the week ended Sept. 26. The prior week, investors removed $4.8 billion from these funds, according to data from the Investment Company Institute.
The exodus from the stock market has picked up speed since the Federal Reserve announced another round of quantitative easing, or QE3.
By buying more bonds, the Federal Reserve is hoping to push investors into riskier investments like stocks. This has succeeded on one front by boosting stock prices, but investors continue to flee the stock market.
Despite being one of the most stable and economically vibrant countries in the world, primarily as a result of its refusal to join the Euro, Switzerland is preparing for mass civil unrest in central Europe that could spill over its border, by mobilizing troops to deal with potential disorder.
The Swiss military is adding four new military battalions to its army that will be spread around the country for the purposes of dealing with the fallout from any widespread disorder that could arise from the crumbling Eurozone.
"Minister Maurer, accompanied by whispers from the top uniformed leadership in Switzerland, is trying to raise awareness that Europe's massive fiscal-cum-political crisis could get very unpleasant, writes John R. Schindler, a professor of national security affairs at the U.S. Naval War College. "Swiss military exercises in September, calledSTABILO DUE, were based on EU instability getting out of hand. The Swiss have stayed out of the EU – one more thing the very prosperous Swiss are gloating about these days – and they certainly don't want EU problems spilling over into their peaceful little country."
…
The media insists on characterizing statements about dependency on government handouts as controversial, but in truth such statements are absolutely correct. It's not that nearly half of Americans are dependent on government; it's actually more than half. If one includes not just people on food stamps and welfare, but also seniors on Medicare, Social Security and people employed by the government directly, the number is more like 165 million out of 308 million, which is 53%.
Some argue that Social Security and Medicare benefits are a right because people pay into these programs their whole lives, or that we need a government safety net in place for people who fall on hard times. However, this all becomes a moot point when the funds people depend on become worthless due to government default or rampant inflation.
This is less an issue of dignity or dependence on government, and more about the deceitfulness of government promises.
The Fed recently announced that it plans to keep interest rates near zero and keep buying near worthless assets from banks indefinitely. This enables Congress to spend without having to take deficits or the debt seriously and there is every indication they intend to spend with impunity until the system collapses. There are no brakes on the runaway train. The federal debt ceiling law does nothing to limit spending. The ceiling will have to be raised yet again perhaps before the year is out. What is happening in Greece with austerity measures and riots in the street will happen here within a decade according to some realistic estimates if we do not find some way to fiscally restrain our government.
…
EBay Inc. and Amazon.com Inc. sales growth slowed in September, signaling that consumers may not increase holiday spending as much as expected, said Herman Leung, an analyst at Susquehanna Financial Group.
EBay's comparable sales rose 22 percent in September from a year earlier, less than August's 29 percent growth, ChannelAdvisor Corp. said Tuesday on its website. Amazon's growth rate fell to 37 percent last month from 41 percent in August, the Morrisville, North Carolina-based company said. Comparable sales measure revenue for merchants who have used the site for at least a year.
"This holiday season could start off slow," said Leung, who's based in San Francisco. "September is a preview. The confidence level has gone down a little bit, looking at this data."
…
The debt of 32 California cities has been placed under review because of economic pressures in the state, Moody's Investors Services said.
The examinations of $14.3 billion in lease-backed and general-obligation ratings in the municipalities "are mostly for downgrade," the New York-based rating company said Tuesday in a statement.
In today's "Bloomberg Economics BRIEF," Bloomberg senior economist Joe Brusuelas writes that with the U.S. economy growing only 1.5 percent in the fourth quarter, America remains in a "slow growth trap" and faces a "substantial risk" of recession due to the looming fiscal cliff.
…
U.S. economy in a slow growth trap:  Bloomberg data finds the economy grew at a 1.65 percent pace in the first half of the year and is now tracking at 1.5 percent pace of growth. "Soft household spending and a broad based slowdown in investment spending figure to be the primary drivers of sluggish growth," writes Brusuelas.
…
Elaine Chao, Labor Secretary under President George W. Bush, says President Barack Obama has failed massively when it comes to jobs.
"It's not just one policy. I wish it were," she tells Newsmax TV in an exclusive interview. "In fact, it's a whole panoply of anti-employer policies devised by this administration and legislated by the Democrat-controlled Congress in the first two years of his administration that has created this terrible situation."
…
MARKETS ARE TUMBLING AND GETTING WORSE!
Source: Google Finance