This Market Decline Is Just Getting Started! The Dow Theory Indicates Sell Signal Was Triggered On Nov. 7
Did the Dow Theory generate an official sell signal earlier this month?
Two of the Dow Theorists I monitor say "yes." The other one remains on a buy signal.
…
Instead, the Theory was introduced in dribs and drabs over the first three decades of the last century — in editorials in The Wall Street Journal by its then-editor, William Peter Hamilton.
Consider the three Dow Theory preconditions for a sell signal:
Step #1: Both the Dow Jones Industrial Average (US:DJIA)  and the Dow Jones Transportation Average (US:DJT)  must undergo a "significant" correction from joint new highs.
Step #2: In their subsequent "significant" rally attempt following that correction, either one or both of these Dow averages must fail to rise above their pre-correction highs.
Step #3: Both averages must then drop below their respective correction lows
…
Jack Schannep, editor of TheDowTheory.com and the Schannep Timing Indicator, is somewhere in between these two extremes.
On the one hand, up until earlier this week, he agreed with Moroney that we've been in a bull market. On the other hand, on his reading a Dow Theory sell signal was triggered on Nov. 7, so — like Russell — he's now focusing on the three-step process for generating a buy signal.
Since the Dow Theory itself can't help us resolve these divergent outlooks, the best I can suggest is that we turn to these advisers' track records. And, according to the Hulbert Financial Digest, Schannep's version of the Dow Theory has had the best record of the three over the last decade.
And that, in turn, isn't good news for stock market bulls.
TRADER ALERT: S&P Is Now Right On Its 200-Day Moving Average
Now, though, all America is having to peer into an abyss – or, to use the metaphor of the moment, over a 'fiscal cliff'.
It describes the moment on  January 1 when, unless the Republican-controlled House of Representatives and the Democrat President come to an agreement, huge tax rises will be accompanied by some deep federal spending cuts that experts fear will tip the country into recession.
The plan is that $136?billion (£85.5?billion) in cuts – 0.8 per cent of GDP – will come in at the same time as $532?billion of tax increases, taking a total of $668?billion out of the deficit, or  four per cent of GDP.
The cuts include defence and unemployment benefits; the tax rises reverse all the Bush-era tax cuts, and will hit the middle classes. They will also hit employers by increasing payroll taxes.
The programme will be anti-growth and anti-enterprise, but Republicans claim that it is the only option, given the Administration's refusal to address the deficit, and the country's colossal debt, in other ways. It is the main  reason why the euphoria of the first Obama victory in 2008 has not been repeated and why the stock market slid south when it was realised four more years of Obama were being served up. 
TAXMAGEDDON: Largest Tax Hikes In The History Of America Imminent
Rail Traffic Takes A Turn For The Worse
Foodstamps Surge By Most In One Year To New All Time Record
#1 Utah
…
#2 Ohio
…
#3 Nevada
…
#4 Posted below is a list of layoff headlines from the past few days that was posted on AmericanThinker.com…
Obama was "fired up" and so were the voters, and so now, the mass firings begin. Here's a collection of today's headlines.  Please say a prayer for the families who will be suffering. Had Romney won, many of these companies would now be hiring.

Teco Coal officials announce layoffs

Momentive Inc plans temporary layoffs for 150

Wilkes-Barre officials to announce mandatory layoffs

600 layoffs at Groupon

More layoffs announced at Aniston Weapons Incinerator

Murray Energy confirms 150 layoffs at 3 subsidiaries

130 laid off in Minnesota dairy plant closure

Stanford brake plant to lay off 75

Turbocare, Oce to lay off more than 220 workers

ATI plans to lay off 172 workers in North Richland Hills

SpaceX claims its first victims as Rocketdyne lays off 100

Providence Journal lays off 23 full-time employees

CVPH lays off 17

New Energy lays off 40 employees

102 Utah miners laid off because of 'war on coal', company says

US Cellular drops Chicago, cuts 640 jobs

Career Education to cut 900 jobs, close 23 campuses

Vestas to cut 3,000 more jobs

First Energy to cut 400 jobs by 2016

Mine owner blames Obama for layoffs (54 fired last night)

Canceled program costs 115 jobs at Ohio air base

AMD trims Austin workforce – 400 jobs slashed

100 workers lose jobs as Caterpillar closes plant in Minnesota

Exide to lay off 150 workers

TE Connectivity to close Guilford plant, lay off 620

More Layoffs for Major Wind Company (3,000 jobs cut)

Cigna to lay off 1,300 workers worldwide

Ameridose to lay off hundreds of workers
#5 According to the Blaze, the following major corporations have all announced layoffs in just the past two days…
Boeing (30% of their management staff)
Momentive Performance Materials
….
Alas, it is my belief – based on my own cycle and comparative work – that the weakness in equities this past week was the byproduct of ongoing asset kinetics set in motion long ago.
Below are several charts I have been following from comparative market environments that continues to point towards market weakness – both in equities and commodities – and a resurrected US currency that I fear has yet to be factored into the collective market consciousness.
Click each chart to enlarge
The Nasdaq/S&P 500 comparative continues to closely follow the arc of the 2007 S&P 500 top – with this cycles Petrochina (last Here) being played out by the now exhausted parabolic mega-cap of Apple. Should the analogy to the previous two peaks on the SPX continue, the bull's ship at best is packed, and at worst – departed.
Continuing to follow the arc of the last secular low – regardless of influence by our quantitative commanders – the US dollar index recaptured 81 this week. It is my belief that the dollar will continue to strengthen over the coming weeks. 
…
The U.S. stock market will continue on an erratic path next week and for the foreseeable future until a deal is reached to avert steep tax increases and cuts in government spending.
…
"My general sense is we're going to be dramatically sideways over the next couple of weeks, depressed one day and excited the next, that's going to be the norm," said Paul Nolte, managing director at Dearborn Partners in Chicago.
…
"Despite increased consumer confidence and better employment numbers, the market is sending a cautious signal, concluding we're going to have ongoing contentious issues; it's resigned that there is a real struggle coming up," said Hugh Johnson, president of Hugh Johnson Advisors in Albany, N.Y.
Worry list
Other concerns include Europe's regional debt trouble, and whether Greece would receive the next round of rescue funds, and China's leadership transition, and whether it would stimulate its economy.        
It has now been reported that for logistical reasons it is very unlikely Greece will be able to draw down on further bailout funds before the week of November 19 at the earliest, notwithstanding the approval of the Greek Parliament on Wednesday of the austerity measures proposed last Monday. This is said to result from:
Germany insisting that the Greek Parliament first pass its 2013 budget, where the vote by the Greek Parliament is scheduled for Sunday, November 11; and,
a subsequent requirement of some of the Eurozone country contributors (including Germany) that the Parliaments of those countries must vote to approve the advance of further bailout funding.
Other comments:
…
People In Spain Are Experiencing Inhumane Situations
What would you say if I were to tell you that America's per capita share of the national debt currently outstanding was 35% higher than that of Greece's per capita share? You might do a double take. Now, what if I were to tell you that America's per capita share of the fiscal gap (net present value of future unfunded liabilities) was more than 18 times that of Greece? These little useful tidbits of information are precisely the kind of thing the syndicate that runs the global financial system would prefer you remain ignorant about. Because you might start to wonder how exactly are we to sustain our current path? The answer is we're not. However, the syndicate would prefer that you continue to load up on iPhones, big screen televisions, and all the modern day trappings of a neo-Roman society. There are even cracks in that façade, however. Sony Corporation was recently downgraded by Moody's to one step above junk due to its seventh consecutive quarterly loss and falling demand for its televisions, phones, and cameras.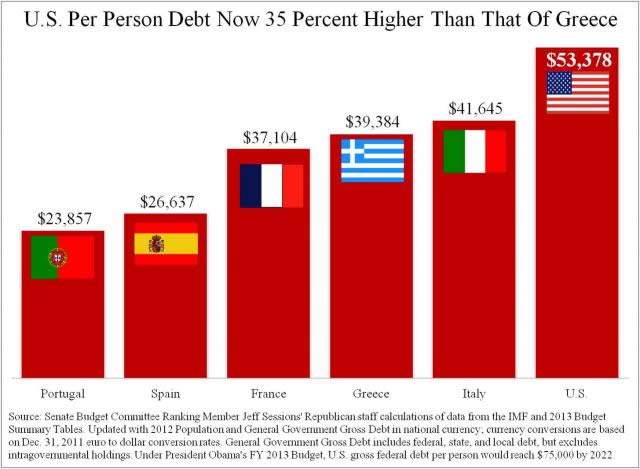 Intelligent comment: