TRADER ALERT: Powerful "Indicators" Suggest A Stock Market Selloff And Inflation Could Be Just Around The Corner And More Market Experts Start Getting Worried. NOW The Fed Is Showing Financial Fear!
Credit Suisse Global Equity Strategist Andrew Garthwaite and his team are taking a bit of stock market exposure off the table after the recent run-up in the S&P 500 over the past month.
Garthwaite warns clients in a new research note out this morning, "Many of our tactical indicators point to a consolidation phase in the equity markets, in the near-term."
In the note, Garthwaite highlights nine charts that show how, just as the stock market has taken a turn upward since mid-November, investor sentiment toward stocks has soared higher in that short amount of time.
Many of the charts show sentiment indicators now at multi-year highs, suggesting elevated risk of a market selloff.
…
From Kimble Charting Solutions:
CLICK ON CHART TO ENLARGE
Many discuss the potential for much higher inflation, due to the action of the Central Bankers (excess printing of money). The MS Commodity Index (CRX) and the Yield on the 30-Year bond (TYX) are two indicators that are sensitive to inflation or the threats of inflation.
Since early 2011, these two indicators have created a series of lower highs along line (1), reflectinglittle inflationary concerns. Both have rallied over the past several months, bringing them back to the top of the falling channel.
We will know the outcome of the BCS national Championship game tonight, yet the more important battle (will inflation take off), will be determined by what happens to CRX index and the yield on the 30-year bond at the top of their channels at (2)!
What happens at these key resistance lines will have a large impact on portfolio construction for Stocks, Bonds and Commodities!
Resistance is Resistance until broken and Resistance has to be taken out, before inflation will become a concern!
Inflation could be silently cheating you in an unexpected way
1.5 Tons Of Gold Bound For Iran Seized on Plane In Turkey. Obama Fails to Protect US Financial Institutions from Iranian Cyber Attacks
"The risk is that if this market rally has been based on short covering and that was all it was, then there's no further money following," Stringfellow said by phone on Jan. 2. "The rally is then either dead or not sustainable."
Congress must agree to raise the federal debt ceiling as soon as mid-February to prevent a U.S. government default. Negotiations over the borrowing threshold in 2011 led S&P to strip the U.S. of its AAA credit rating and pushed U.S. stocks within 1 percentage point of a bear market.
At the same time, estimates of how much American companies earned in 2012 are falling. Combined S&P 500 profits were probably $103.40 a share, according to more than 10,000 forecasts compiled by Bloomberg on Dec. 31. That compares with $105.20 a share on Oct. 15. Alcoa Inc. (AA), the largest U.S. aluminum producer, is due to begin the fourth-quarter earnings- reporting season when it releases results this week.
Are Markets Getting Ahead Of Themselves? (Gluskin Sheff)
Last week the Dow was up 3.8 percent, its best performance since December 2011, and at its Friday close, the S&P 500 was just 99 points from its all time high. Gluskin Sheff's David Rosenberg thinks markets are "getting ahead of themselves".
"Investor confidence reached such heights, in fact, that the VIX index plunged 39% to 13.8. One has to wonder if, in fact, this is more a story of complacency right now rather than merely confidence. But the stock market's ability to climb the most recent wall of worry and do so in the face of sharply higher (to a five- month high and more attractive) Treasury yields and a rapid strengthening in the U.S. dollar, is impressive nonetheless.
That said, the market looks overbought right now with 88% of the S&P 500 now trading above their 50-day moving averages. Sentiment measures like Investors Intelligence are still flashing twice as many bulls than bears. And while several of the coincident economic indicators have recently surpassed expectations, forward-looking measures like ISM orders did not, nor did factory bookings for November which were released on Friday and came in flat. …ECRI's leading indicator slid to 126.4 in the latest week from 127.6 in the steepest decline since last May and the smoothed index fell to 4.9% from 5.1%. That is not in the direction of economic acceleration that would otherwise validate this move in Treasury yields to eight-month highs — all the more so with the U.S. dollar firm and the CRB commodity index down fractionally to begin the year, which are hardly the hallmarks of an inflation resurrection."
…The $15 trillion in global unencumbered cash (not tied up in derivatives) will skip stocks and go directly into gold and silver. The total stock of gold in the world is about nine trillion. The total stock of silver in the world is about 30 billion. What happens to the price of gold and silver when more than one quadrillion in rapidly depreciating derivative paper is attempted to be jammed into a market less than 1 percent in size? #ExplosivePriceRise
The Economics of Extinction
In this episode, Max Keiser and Stacy Herbert discuss the economics of wealth and wage extinction. They talk about hunger wages, household income and the hedge funds reaping huge profits off this wealth and wage extinction.
The Three Key Charts Before The Launch Of Earnings Season
A total of 22 companies, 4% of the S&P 500 market cap, have reported 4Q12 results. Of these, 64% have topped revenue estimates and 68% topped earnings estimates (considerably lower than average). Aggregate 
earnings results have exceeded estimates by 1%, revenues have missed by 0.5%, and blended margins are down 12bps y/y
. As Barclays' Barry Knapp notes, the last several quarters, earnings seasons have generally been characterized by revenue misses, earnings beats (but by a shrinking amount), and negative guidance; as a result, there has been a negative skew to stock prices. In other words, in the immediate  aftermath of the report, earnings beats are marginally outperforming the market, while 
misses get hammered
, primarily due to weak forward guidance. 
The sustainability of earnings growth remains key given the weak top-line environment
and these three self-explanatory charts should hopefully put some fundamental color around the perspective that 
earnings season will be a negative for the market overall
.
Top-down 'macro' and bottom-up 'micro' ain't believing it…
Expectations beggar belief…
Earnings season unofficially kicks off Tuesday. From Sandy to the "fiscal cliff" get ready to here every excuse in the book for weak profits and revenue!
Fed's Plosser Says U.S. Growth May Be Permanently Reduced
Federal Reserve Bank of Philadelphia President Charles Plosser said the last recession was a shock that seems to have permanently reduced the potential long-term growth of U.S. gross domestic product.
U.S. Fed Showing Financial Fear
Have you heard about the Fed's 180 degree turn?
Think about one of those movie scenes when the leading man does all he can to defeat the big, bad enemy — punches, kicks, slams, stabs, shoots — but the bad guy just won't go down. In fact he doesn't even look fazed.
That's when the protagonist really starts to worry.
In real life, that's where the Federal Reserve finds itself today.
The central bank has thrown everything in its arsenal at the economy, but most key economic metrics have barely budged.
In the epic struggle, the Fed's policy has been turned upside down.
In the latest Elliott Wave Theorist, Bob Prechter noted:
The Fed has changed its policy, and it has done so in dramatic fashion. Look at this history of what the Fed has done.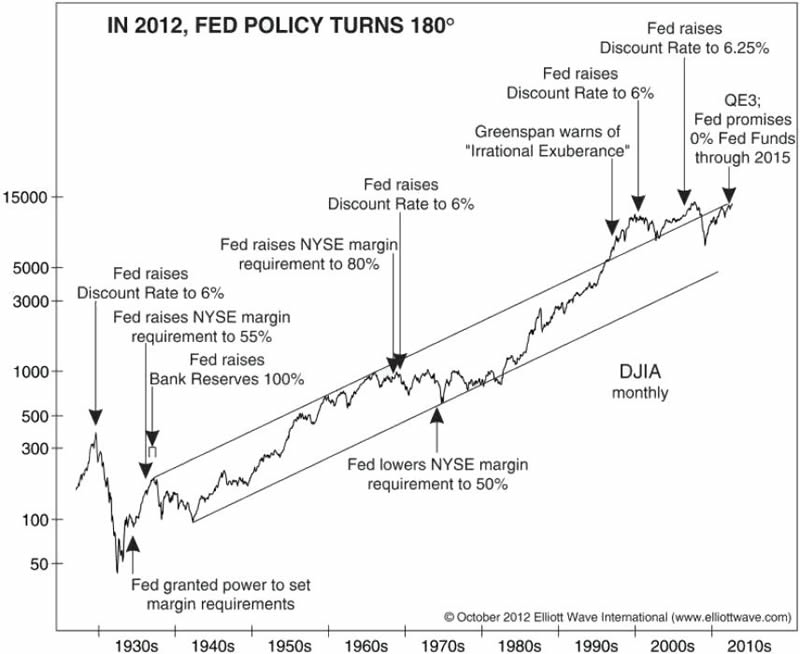 …
Taxes Going Up, Recovery Hitting A Pothole, Credit Downgrade Imminent, NOW WE ARE HEADING TOWARD TO ANOTHER GREAT BOND MARKET MASSACRE And Investors Could Suffer More Than $1 Trillion In Losses, This Time Stocks Could Follow.
Today We're One Step Closer To The Market Crash While The Real 2013 Cliff Is Still In Front of Us