URGENT: CDC says flu hits epidemic threshold nationwide, 3 children dead, 7 in intensive care.
@CDCgov "The virus can enter the blood stream and then the brain…" — 3 children dead, 7 in intensive care : http://t.co/f0zaarEu2O

— higinio gonzalez (@johnnie50) December 29, 2014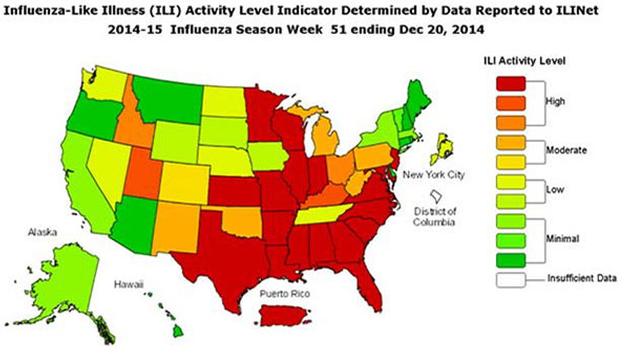 CHICAGO (WLS) —
Illinois is reporting high flu activity and the CDC says the U.S. has hit the flu epidemic threshold nationwide.
According to the CDC, the proportion of deaths reported in 122 U.S. cities from pneumonia and influenza surpassed the seasonal baseline and currently stands at the epidemic threshold of 6.8 percent. The number of states reporting high flu activity has also increased from 13 to 22.
http://abc7chicago.com/health/ill-reports-high-flu-activity-cdc-says-nation-at-epidemic-threshold/454261/
Why the Flu May Be Especially Deadly to Children This Year

More ABC News Videos | ABC World News
Article Continues Below
Three children in Minnesota have died of complications from a particularly potent strain of the fluvirus, health officials said.
An additional seven children were in the intensive care unit of the Children's Hospital in St. Paul, according to the most recent report from the Minnesota Health Department.
Dr. Pritish Tosh, an infectious diseases physician with the Mayo Clinic and a member of the Mayo vaccine research group, said this year's strain of flu is especially dangerous and can quickly become a life-threatening condition in children.
http://abcnews.go.com/Health/deadly-flu-outbreak-kills-children-minnesota/story?id=27878497
440 views