Charts: Shocking Truth About Extremes
SPX/VIX Ratio Is Telling A Shocking Truth About Extremes pic.twitter.com/ZHHKcVkNN8

— StockBoardAsset (@StockBoardAsset) November 7, 2017
Scariest Chart Of The Day h/t WolfStreet pic.twitter.com/GM0UAlK2s6

— StockBoardAsset (@StockBoardAsset) November 7, 2017
The Last Time 2s10s Curve Death Cross Occurred It Was 2007 pic.twitter.com/BuCZAbNrmm

— StockBoardAsset (@StockBoardAsset) November 7, 2017
A Growing Number Of Realtors May Signal A Real Estate Bubble
To visualize the growth and decline of the number of registered realtors and associate realtors, see Chart 1 below: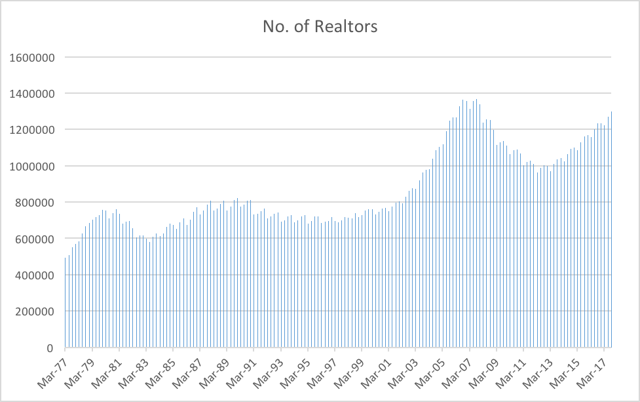 Chart 1: Number of licensed realtors and associate realtors, 1977-2017
There is a relatively stable number of realtors and associate realtors between 1985 and 2000, followed by a sustained rise until 2008, when the financial crisis crushed house prices and buried many of the dilettante realtors who had entered the market when it seemed as if perpetual, rapid house price growth would continue forever.
Taking a narrower timeframe, the collapse during the financial crisis is readily apparent.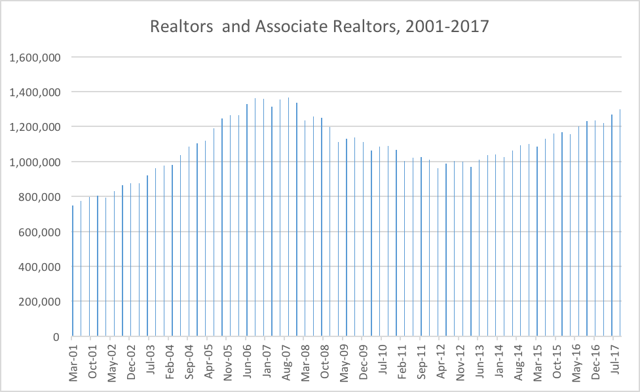 Chart 2: Number of licensed realtors and associate realtors, 2001-2017
The rapid and irrational rise of house prices and its role as an essential component of the financial crisis is well known. But can we use the number of practicing realtors as a means of determining when a crisis is building?
DILLETANTES, GREED, CHAOS, AND PREDICTION
Let us next attempt to create a usable visualization of the increase in licensed realtors and the proximate cause of new entrants: house prices.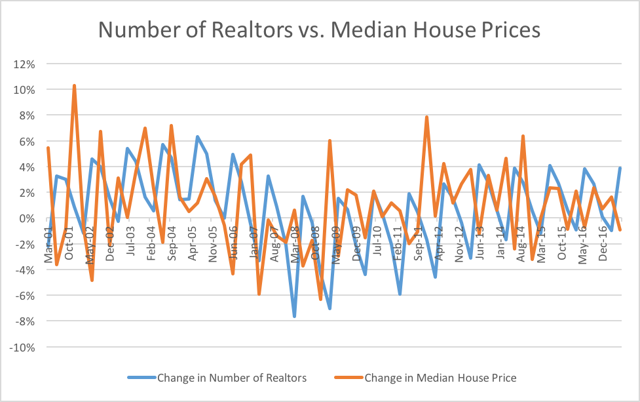 Article Continues Below
Chart 3: Number of licensed realtors and associate realtors over time compared to median US house prices over time
https://stockboardasset.com/insights-and-research/growing-number-realtors-may-signal-real-estate-bubble/
Large timeframe view of Small Caps <RUT> signals stall but not confirmed.. pic.twitter.com/1tZlXftFcb

— StockBoardAsset (@StockBoardAsset) November 7, 2017
US Banks ignore 2s10s curve produced by buybacks. pic.twitter.com/9kCGHqZmEu

— StockBoardAsset (@StockBoardAsset) November 8, 2017
Dow Theory Signals Warning pic.twitter.com/DoD1ultDlT

— StockBoardAsset (@StockBoardAsset) November 8, 2017
Now that we've fully loaded back up on credit card debt let's normalize rates ????
Total Revolving Credit Owned and Securitized, Outstanding pic.twitter.com/rNolCiBhxT

— Sven Henrich (@NorthmanTrader) November 7, 2017
Consumer Credit Card Debt Has Exceeded $1 Trillion
The pickup in September consumer credit capped a quarter in which debt outstanding grew at an annualized 5.5 percent, the fastest quarterly pace this year.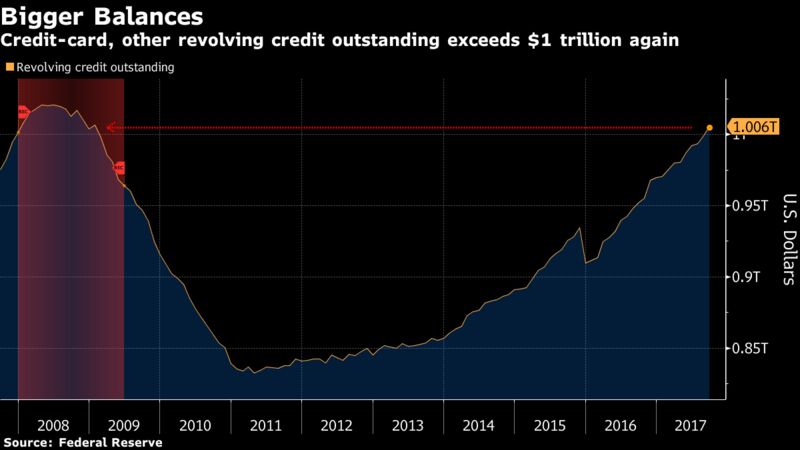 https://www.bloomberg.com/news/articles/2017-11-07/consumer-credit-in-u-s-increases-by-most-since-november-2016
Momentum Hasn't Been This Extreme Since The Peak Of The Dot.Com Bubble
The last month or so has seen 'momentum' dramatically outperform the market as retail flows chase 'what is working'…
In fact this has very much been a year of momo…
But, as Bloomberg notes, U.S. stocks with the fastest-rising prices are showing the kind of strength they did in the 1990s, according to Jonathan Krinsky, chief market technician at MKM Partners LLC.
He cited this year's swings in the MSCI USA Momentum and MSCI USA indexes in a report Sunday. The gap between them stands at 15 percent, a threshold that the momentum index only crossed on a full-year basis in 1999.
http://www.zerohedge.com/news/2017-11-07/momentum-hasnt-been-extreme-peak-dotcom-bubble
125 views