Dick Bove: Market Dangerous as Late 1990's, Bank Stocks Could 'Come Crashing Down… Mike Maloney: Alarm Bells Ringing For Stock Markets
Ahead of bank earnings season, analyst Dick Bove warns investors that financials are a pure momentum play, and sell-off risks are high.
A close look at bank earnings with analyst Dick Bove from CNBC.
The Vertical Group's Richard Bove warns that the overall market is just as dangerous as the late 1990s, and he cites momentum — not fundamentals — as what's driving bank stocks to all-time highs.
"If we don't get some event in the economy or in politics or in somewhere that is going to create more loan volume and better margins for the banks, then yes, they would come crashing down," Bove said Monday on CNBC's "Trading Nation." "I think that the risk in these stocks is very high at the present time."
https://www.cnbc.com/2017/10/10/bank-stocks-could-come-crashing-down-warns-bank-analyst-dick-bove.html
Alarm Bells Ringing For Stock Markets
Central bank policies raise threat of bubbles, says outgoing German finance minister Wolfgang Schäuble
Wolfgang Schäuble has warned that spiralling levels of global debt and liquidity present a big risk to the world economy, in his parting shot as Germany's finance minister.
In an interview with the Financial Times, the Europhile who has steered one of the world's largest economies for the past eight years, said there was a danger of "new bubbles" forming due to the trillions of dollars that central banks have pumped into markets.
Mr Schäuble also warned of risks to stability in the eurozone, particularly from bank balance sheets burdened by the post-crisis legacy of non-performing loans.
…
"Economists all over the world are concerned about the increased risks arising from the accumulation of more and more liquidity and the growth of public and private debt. I myself am concerned about this, too," he said.
His comments come a day after Christine Lagarde, head of the International Monetary Fund, said the world was enjoying its best growth spurt since the start of the decade. She warned, however, of "threats on the horizon" from "high levels of debt in many countries to rapid credit expansion in China, to excessive risk-taking in financial markets".
…
"We have to ensure that we will be resilient enough if we ever face a new economic crisis," he added. "We won't always have such positive economic times as we have now."
https://www.ft.com/content/9de0533c-aab8-11e7-93c5-648314d2c72c
"Working-class Americans devoted a growing percentage of their income toward paying their debts last year" cc @federalreserve pic.twitter.com/IA8fYAWUEe

— StockBoardAsset (@StockBoardAsset) October 10, 2017
TECHNICAL INDICATORS FLASH LONG-TERM WARNING SIGNS
The market continues to exhibit large negative divergences. This characteristic has historically occurred at times preceding rough periods in the stock market. For instance, the summer of 1987 was plagued by narrow breadth, directly followed by a crash that fall. In the summer of 1998, there were clear warning signs leading into the Thai baht crisis, which triggered an international crash of stocks. A similar situation occurred at the start of 2008, directly before the mortgage crisis. Prudent investors would be foolish to ignore the current warning signs.

Article Continues Below
The cumulative 21-day advancing/declining volume indicator measures the internal dynamics of the market by monitoring up/down volume. We have highlighted the previous four peaks in order to emphasize the series of lower highs in the up/down volume gauge. This situation has occurred while the indexes have simultaneously hit higher highs – a classic negative divergence, illustrating that large institutional sponsorship has not been following the indexes.

Well-known quant Dr. John Hussman says we are experiencing one of the most dangerous markets in history. He bases his assessment on three simultaneous criteria. Hussman warns of risk when the S&P 500 is at a three-year high, the investors-intelligence bulls/bears exceed 60% and the NYSE new highs and lows are greater than 7% of issues. This chart identifies such occurrences. Note that in 2000, and then again in 2007-08, substantial corrections followed warning signals. It is notable that the signal was just shy of being triggered a week prior to the 1987 crash. Over the past nine quarters, three sell signals have been triggered.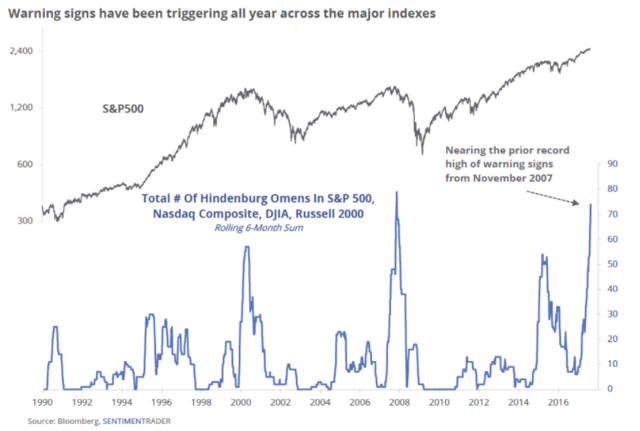 Named after the crash of the German airship in the late 1930s, the Hindenburg Omen is a technical indicator developed to predict the potential for a financial market crash. In August, Hindenburg omens occurred five times during a six-day period. A Hindenburg Omen is created when:
• The S&P 500's five-day moving average is higher than it was the day before
• The McClellan Oscillator is below zero
• The 52-week highs are greater than 2.2%
• The 52-week lows are greater than 2.2%
http://stockboardasset.com/insights-and-research/technical-indicators-flash-long-term-warning-signs/
Volatility Extreme
The extreme net-short positioning on the volatility index suggests there will be a rapid unwinding of positions given the right catalyst. As you will note, reversals of net-short VIX positioning has previously resulted in short to intermediate-term declines. With the largest short-positioning in volatility on record, the rush to unwind that positioning could lead to a much sharper pickup in volatility than most investors can currently imagine.
Crude Oil Extreme
The recent attempt by crude oil to get back to $50/bbl coincided with a "mad rush" by traders to be long the commodity. For investors, it is also worth noting that crude oil positioning is also highly correlated to overall movements of the S&P 500 index. With crude traders currently extremely "long," a reversal will likely coincide with both a reversal in the S&P 500 and oil prices being pushed back towards $40/bbl. 
https://realinvestmentadvice.com/technically-speaking-extremes-everywhere-cot-update/
[views]